A study of Square-Enix' success and AAA Triangle Analysis
Published:
2019/12/04
•
Number of words:
5219
SQUARE-ENIX' SUCCESS AND AAA TRIANGLE ANALYSIS
Square-Enix Co. Ltd. is a merger of Square Co. Ltd. and Enix Corporation, which are two competitors in the Japanese computer game software industry. They develop computer game software for Nintendo, Microsoft and Sony Computer Entertainment and follow a framework called 'polymorphic content' (Square-Enix Annual Report 2004) where original concepts are immediately transferred to different media such as movies, novels, games and others. They foresee that demand for entertainment content will increase because media platforms will provide ease of access. The company also publishes books, periodicals, magazines and comics and produces toys and character goods. The operations are carried out through the following divisions: Computer games, online games, mobile games and content, publishing and others. There is a brief history of the company before and after the merger in Appendices A and B, respectively.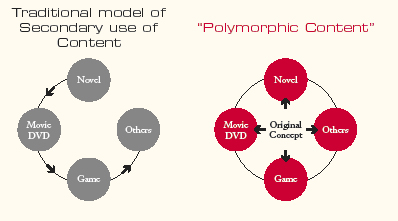 Chart 1 – Traditional v Polymorphic content Source: Square-Enix Annual Report 2004
Square-Enix has gained a competitive advantage because of, but not only, pursuing a benefit-enhancing strategy, acquiring and sustaining key resources and capabilities, and making strategic 'buy' decisions and collaborations to maximise profitability.
They have made a lot of effort to satisfy their customers because the company believes that their value lies on providing happiness, as stated in their corporate philosophy1. If consumers feel happy and satisfied, the company is able to create sentiment and create a fan base because consumers will expect good quality games in the future, which will then increase demand for future games. This also helps in the merchandising of video game character toys since consumers will have a sentiment towards the characters and this will encourage consumers to buy them.
The key game franchises are Final Fantasy (FF) and Dragon Quest (DQ) which have spawned many sequels and spin-offs since the first titles in 1987 and 1986, respectively. These games fall under the 'role-playing game' (RPG) genre of video games where the player has choices regarding the actions that their character(s) takes. Consumers of FF and DQ are given a compelling storyline that is appropriate for both young and old. The games are presented with very visually appealing graphics and mood-enhancing musical scores. The game system is easy to understand but allows for complexity such as the customisation of characters by improving their abilities and equipment. These games have received outstanding ratings in many magazines and game review websites with their latest FF and DQ titles, Final Fantasy XII2 and Dragon Quest VIII: Journey of the Cursed King3. FF and DQ games can be described as games that are easy to understand but highly addictive, which are attributes of a successful game (Vogel, 2001). Their success is evident in the net income of the company over the past seven years (see table below). Since the merger in 2003, Square-Enix has increased its profits significantly; they are even greater than the combined profits of two companies before the merger. This means that the company has been able to deal with management issues relating to mergers. The positive profits may be attributed to the similarity of the structure of the two companies and being in the same industry.
| | | | |
| --- | --- | --- | --- |
| Year | Total Sales in $ | Net Income in $ | EPS in $ |
| 2007 | 163,472,000,000 | 11,619,000,000 | 135.63 |
| 2006 | 124,473,000,000 | 17,076,000,000 | 100.04 |
| 2005 | 73,864,000,000 | 14,932,000,000 | 41.18 |
| 2004 | 63,202,000,000 | 10,993,000,000 | 92.43 |
| 2003 | 21,877,000,000 | 2,419,000,000 | 200.14 |
| 2002 | 24,825,000,000 | 4,276,000,000 | 38.9245 |
| 2001 | 45,265,374,000 | 11,248,184,000 | 63.6237 |
| 2000 | 18,325,949,000 | 2,182,195,000 | 24.3644 |
Before the merger, Square made some collaborative arrangements in order to gain more competitive advantage, such as going into a joint venture with Electronic Arts (EA), an American game publisher for Square to distribute games to American consumers and for EA to reach Japanese consumers (Square EA LLC and Electronic Arts Square KK4, respectively). Square collaborated with Walt Disney Company to create another franchise game 'Kingdom Hearts' which experienced good sales and spawned a couple of sequels, and more are still in development. This move has appealed to younger gamers because of the inclusion of Disney characters such as Mickey Mouse and Donald Duck primarily to reach a younger segment of the market, but it was successful enough to be equally satisfying for older gamers. After the merger, Square-Enix pursued activities such as cooperating with Intel to improve gaming on PCs and co-developing digital content solutions with Panasonic, which are both described as adding to their capabilities.
The main capabilities of Square-Enix are its production teams for the main franchises: Final Fantasy, which includes Hironobu Sakaguchi5 (producer), Nobuo Uematsu (musical director) (Mielke, 2008), and Yoshitaka Amano (art director) (Mielke, 2006); the Dragon Quest team includes Yuji Horii (creator/producer) (Square-Enix Annual Report 2004), Koichi Sugiyama6 (music), and Akira Toriyama7 (art director – famous for Dragonball Z). Since the key resources of the company are with the talents, it is imperative for the company to keep the main individual talents to maintain competitiveness. The teams' proven success has made transferring to other companies costly. To sustain their main resources, continuity is a priority and new talents have been recruited and have worked with the aging directors and artists to maintain the quality of work. One of the potential problems of Square-Enix, and their industry in general, is software piracy. The setting-up development studios in countries where there is weak enforcement of intellectual property rights is not an option because illegal copies will be made; hence the company cannot use this option to increase competitiveness and this will limit growth and profitability.
Square-Enix hires companies such as Affinitive8 and Rudder Finn9 who can distribute and market their games because these companies have capabilities that Square-Enix needs. By using the market, Square-Enix reduces the risk of being unsuccessful if they did their marketing and media exposure on their own. However, there is a risk of not being able to coordinate ideas between Square-Enix and these companies, and if there are misunderstandings, this can cause potential sales to decrease because advertising efforts are not maximised.
The AAA triangle represents three strategies for international businesses which are adaptation, aggregation and arbitrage. Adaptation is a when a company goes into different countries selling the same product but adjusts its presentation to fit the preferences of local consumers. Aggregation is exploiting economies of scale by producing a homogenous product that does not need modification and selling in different countries. Arbitrage seeks to exploit the different factor-endowed advantages of different countries and use them to create value for the product.
Usually a company can pursue one or two 'A' strategies but cannot pursue an AAA strategy because of the opportunity costs involved in each strategy. If a company pursues aggregation then it may not be compatible with adaptation because the cost of marketing may as well be used as capital for setting up factories or buying machinery for rapid production. Another case would be when a company pursues arbitrage but wants to pursue aggregation where the trade-off is sacrificing the specialised skills or resources for mass-production capabilities. (Siegel, 2006)
Ghemawat suggests using proxy variables to determine the direction of future strategy using the AAA triangle. The proportion of advertising expenditure, research and development and labour to sales will be sufficient to describe the AAA triangle of the company. The advertising-to-sales ratio represents adaptation because finding out consumer s' preferences and demands is necessary for an adaptation strategy. The research and development-to-sales ratio represents the ability of the company to spread the cost of output and is an aggregation strategy. The labour-to-sales ratio highlights the importance of finding skillful workers for the operations of the company, suggesting an arbitrage strategy, and in Square-Enix's case, this means IT professionals.
in million Yen

sales 2006

advertising

R & D

Labor

163472

6331

1,145

15482

ratio

0.0387

0.0070

0.0947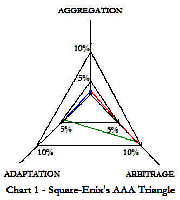 Ghemawat suggests that a company that has a high percentage labour-to-sales ratio should pursue an arbitrage strategy. This is true in the case of Square-Enix since the company's resources are mainly its personnel, especially the artists and directors where the creation of value is extracted. The company does not need to pursue an aggregation strategy because even if the content that they are selling is differentiated, this intangibility will not matter since games are all put on the same medium such as CDs, DVDs or cartridges. From the chart ( left), it can be said that the company pursues some adaptation strategy and this can be seen from the regional divisions in which Square-Enix operates (Square-Enix Annual Report 2007). To some extent the company must find out the differences in culture and entertainment preferences as more Japanese prefer role-playing games to action games while Americans prefer the opposite (Sanchanta, 2007).
We can show that the AAA framework is applicable by comparing the numbers with the announced strategy of the company. The medium-term strategy of the company is to exp and offline game franchises, such as FF and DQ, and to strengthen network-related business such as online games (Square-Enix Annual Report 2007). This strategy is based on their recognition of the fast development in the IT industry. They also envision that as more devices are available for consumers, more content will be demanded and that is where Square-Enix wishes to be – to supply entertainment content. For a company like Square-Enix, more content would mean more production teams to create new game franchises and this will require them to hire more artists and game directors. Hence, the arbitrage strategy is highly relevant, but Japan already has highly skilled IT professionals so they need not look far for skilled labour, which is an added bonus for them. If the company were to pursue another strategy in-line with arbitrage, it would have to be adaptation since Japanese companies require more translators and localisation writers to make the context of the games relevant to their markets especially in the EU region. In terms of integration, Square-Enix has chosen to collaborate with market companies to distribute their games because there is a greater opportunity cost for them to distribute the games to retailers since they would have to understand the logistics structure for every region and would have to deal with more personnel, which can create more coordination problems for them. In Appendix B, it can be seen that what the company lacks, the company buys, because they focus on making the games, so integration is in terms of functionality.
REFERENCES
BESANKO, D., DRANOVE, D., SHANLEY, M. & SCHAEFER, S. (2007) Economics of Strategy, Massachusetts, John Wiley & Sons, Inc.
ECONOMIST, T. (1985) How to get a competitive edge. The Economist. U.S. Edition ed., The Economist Newspaper Ltd.
GHEMAWAT, P. (2007) Managing Differences: The Central Challenge of Global Strategy. Harvard Business Review, 59 – 68.
MARIKO, S. (2007) Game maker in play for foreign partner. www.ft.com, viewed April 20, 2008, < http://search.ft.com/ftArticle?queryText=square-enix&aje=true&id=070921012969&ct=0&nclick_check=1>
MIELKE, J. (2006) A Day in the Life of Yoshitaka Amano. www.1up.com, viewed April 15, 2008, <http://www.1up.com/do/feature?cId=3152237>
MIELKE, J. (2008) A Day in the Life of Nobuo Uematsu. www.1up.com, viewed April 15, 2008, <http://www.1up.com/do/feature?cId=3166165>
SIEGEL, J. (2006) Introduction to Global Strategy. Harvard Business School Module Note, Boston, Massachusetts, Harvard Business School Publishing.
Square Enix Annual Report 2007, www.square-enix.com, viewed April 12, 2008, < http://www.square-enix.com/jp/ir/e/data/ar/download/20070831en.pdf>.
Square Enix Annual Report 2006, www.square-enix.com, viewed April 12, 2008, < http://www.square-enix.com/jp/ir/e/data/ar/download/20060901en.pdf>.
Square Enix Annual Report 2005, www.square-enix.com, viewed April 12, 2008, < http://www.square-enix.com/jp/ir/e/data/ar/download/ar2005_20050901.pdf>.
Square Enix Annual Report 2004, www.square-enix.com, viewed April 12, 2008, < http://www.square-enix.com/jp/ir/e/data/ar/download/0404-200408060000-01.pdf>.
VOGEL, H. (2001) Playing the Game: The Economics of the Computer Game Industry. Cambridge, Cambridge University Press.
APPENDIX A – History of Square and Enix before the merger
Source: http://www.square-enix.com/jp/company/e/history/page2.html
| | | |
| --- | --- | --- |
| | ENIX CORPORATION | SQUARE CO., LTD. |
| Sep. 1975 | Eidansha Boshu Service Center is founded. | |
| Aug. 1982 | Eidansha System's name is formally changed to ENIX CORPORATION. | |
| Sep. 1986 | | SQUARE CO., LTD. is founded. |
| Jan. 1987 | "DRAGON QUEST II" is released for the Family Computer (Nintendo Entertainment System) in Japan. | "FINAL FANTASY" is released for the Family Computer (Nintendo Entertainment System) in Japan. |
| Feb. 1988 | "DRAGON QUEST III" is released for the Family Computer (Nintendo Entertainment System) in Japan. | |
| Dec. 1988 | | "FINAL FANTASY II" is released for the Family Computer (Nintendo Entertainment System) in Japan. |
| Mar. 1989 | | SQUARE SOFT, INC. (presently SQUARE ENIX, INC.) is established as a wholly owned subsidiary of SQUARE CO., LTD. |
| Apr. 1989 | ENIX CORPORATION, KONIKA ENIX, and Enix Products merge into Eidansha Boshu Service Center, which is subsequently renamed ENIX CORPORATION. | |
| Feb. 1990 | "DRAGON QUEST IV" is released for the Family Computer (Nintendo Entertainment System) in Japan. | |
| Apr. 1990 | | "FINAL FANTASY III" is released for the Family Computer (Nintendo Entertainment System) in Japan. |
| Feb. 1991 | ENIX CORPORATION stock is registered with the Japan Securities Dealers Association (presently Jasdaq Securities Exchange, Inc.) for over-the-counter trading. | |
| Jul. 1991 | | "FINAL FANTASY IV" is released for the Super Famicom (Super NES) in Japan. |
| Oct. 1991 | Digital Entertainment Academy Co., Ltd. is established as a partially owned subsidiary. | |
| Sep. 1992 | "DRAGON QUEST V" is released for the Super Famicom (Super NES) in Japan. | |
| Dec. 1992 | | "FINAL FANTASY V" is released for the Super Famicom (Super NES) in Japan. |
| Apr. 1994 | | "FINAL FANTASY VI" is released for the Super Famicom (Super NES) in Japan. |
| Aug. 1994 | | SQUARE CO., LTD. stock is registered with the Japan Securities Dealers Association (presently Jasdaq Securities Exchange, Inc.) for over-the-counter trading. |
| Aug. 1995 | | SQUARE L.A., INC. (presently SQUARE ENIX, INC.) is established as a wholly owned subsidiary of SQUARE CO., LTD. |
| Dec. 1995 | "DRAGON QUEST VI" is released for the Super Famicom (Super NES) in Japan. | |
| Jan. 1997 | | "FINAL FANTASY VII" is released for the Playstation in Japan. |
| May 1998 | | SQUARE ELECTRONIC ARTS L.L.C. is established jointly with Electronic Arts(Los Angeles, CA, presently SQUARE ENIX, INC.) |
| Dec. 1998 | | SQUARE EUROPE LTD. (presently SQUARE ENIX, LTD.) is established as a wholly owned subsidiary of SQUARE CO., LTD. |
| Feb. 1999 | | "FINAL FANTASY VIII" is released for the Playstation in Japan. |
| Aug. 1999 | ENIX CORPORATION is listed on the Tokyo Stock Exchange's 1st section. | |
| Nov. 1999 | ENIX AMERICA INC. is established as a wholly owned subsidiary of ENIX CORPORATION. | |
| Jul. 2000 | | "FINAL FANTASY IX" is released for the Playstation in Japan. |
| Aug. 2000 | "DRAGON QUEST VII" is released for the Playstation in Japan. | SQUARE CO., LTD. is listed on the Tokyo Stock Exchange's 1st section. |
| Jul. 2001 | "FULLMETAL ALCHEMIST" makes its debut in "Shonen GANGAN" magazine. | "FINAL FANTASY X" is released for the Playstation 2 in Japan. |
| Nov. 2001 | SQUARE ENIX WEBSTAR NETWORK TECNOLOGY (BEIJING) CO., LTD. (Beijing, China) is established jointly with Mauritius Webstar Inc. | |
| Mar 2002 | | "Kingdom Hearts" is released for the PlayStation2 in collaboration with the Walt Disney Company |
| May 2002 | | "FINAL FANTASY XI" for the PalyStation2 is released. SQUARE CO., LTD. Enters the online-game market. |
APPENDIX B – History of Square-Enix
Source: http://www.square-enix.com/jp/company/e/history/
| | |
| --- | --- |
| Apr. 2003 | SQUARE CO., LTD. merges with ENIX CORPORATION, and the new company is subsequently renamed SQUARE ENIX CO., LTD. |
| Jul. 2003 | Headquarters relocated to Yoyogi, Shibuya-ku, Tokyo. |
| Oct. 2003 | The Company makes a cooperation agreement with Intel Corporation to improve gaming experiences on PCs and mobile devices. |
| Jan. 2004 | "FULLMETAL ALCHEMIST" receives the 49th Shogakukan Manga Award. |
| Jan. 2004 | "Kenshin DRAGON QUEST – Yomigaerishi Densetsu no Ken", an interactive RPG connected directly to a TV, is awarded the Digital Toy Award at the Digital Content Grand-prix. |
| Feb. 2004 | Full port versions of "DRAGON QUEST" and "FINAL FANTASY" are developed and launched for NTT DoCoMo's FOMA service. |
| Mar. 2004 | UIEvolution, Inc. is acquired by the company as a wholly-owned subsidiary. |
| Mar. 2004 | "DRAGON QUEST V" is released for the PlayStation2. |
| May 2004 | The Company makes an agreement with Sony Online Entertainment Inc. to publish "EVERQUEST II" in Japan. |
| Jul. 2004 | The Company applies a new management system to subsidiaries in North America and Europe renaming them SQUARE ENIX, INC. and SQUARE ENIX LTD. to unify corporate brand names in the global market. |
| Jul. 2004 | The CG-based project "FINAL FANTASY VII Advent Children" is presented at the Venice International Film Festival. |
| Nov. 2004 | "Kingdom Hearts Chain of Memories" is released for GameBoy Advance. |
| Nov. 2004 | "DRAGON QUEST VIII" is released for the PlayStation2. |
| Dec. 2004 | The Company partners with the Tsinghua University's School of Continuing Education in the field of digital content. |
| Jan. 2005 | SQUARE ENIX (China) CO., LTD.(Beijing, China)is established as a wholly owned subsidiary of the company. |
| Sep. 2005 | The CG-based animation "FINAL FANTASY VII: Advent Children" is presented at the Venice International Film Festival for the second consecutive year. |
| Sep. 2005 | TAITO CORPORATION is acquired by the company as a consolidated subsidiary. |
| Oct. 2005 | "Dragon Quest VIII: Journey of the Cursed King" for PlayStation2 is awarded the Grand Prize and Best-Sales at 9th CESA GAME AWARDS. |
| Dec. 2005 | "Kingdom Hearts II" is released for PlayStation2. |
| Mar. 2006 | "FINAL FANTASY XII" is released for PlayStation2. |
| Mar. 2006 | "FULLMETAL ALCHEMIST the Movie" is awarded the Animation of the Year, Best Original Story, and Best Music at 5th Tokyo Anime Award. |
| Mar. 2006 | The Company makes TAITO CORPORATION a wholly-owned subsidiary. |
| Apr. 2006 | The Company and Panasonic agree to co-develop a seamless digital content solution. |
| May 2006 | The Company establishes SG Lab Inc., a joint venture between the Company and GAKKEN, and enters the serious game business. |
| May 2006 | The Company establishes StyleWalker, Inc., a joint venture between the Company and Xavel. |
| Sep. 2006 | "FINAL FANTASY XII" for PlayStation2 is awarded the Grand Award at Japan Game Awards 2006. |
| Oct. 2006 | New York City accredited October 11, 2006 for "FINAL FANTASY XII DAY". |
| Oct. 2006 | "FINAL FANTASY XII" for PlayStation2 is selected for one of a "New Japanese Styles Top 100″(Shin Nihon Yoshiki 100-sen). |
| Nov. 2006 | The Company establishes SQUARE ENIX OF AMERICA HOLDINGS, INC. (Los Angeles, California, U.S.A.), a holding company to control management and operations of the Company's subsidiaries in North America. |
| Mar. 2007 | StyleWalker, Inc., a joint venture between the Company and Xavel, launches a fashion SNS, StyleWalker. |
---
1http://www.square-enix.com/jp/company/e/philosophy/
2http://uk.gamespot.com/ps2/rpg/finalfantasy12/review.html?om_act=convert&om_clk=gssummary&tag=summary;review
3http://uk.gamespot.com/ps2/rpg/dragonwarrior8/review.html?om_act=convert&om_clk=gssummary&tag=summary;review
4http://en.wikipedia.org/wiki/Square_Electronic_Arts
5http://www.mobygames.com/developer/sheet/view/developerId,33334/
6http://www.squareenixmusic.com/composers/sugiyama/
7http://www.mobygames.com/developer/sheet/view/developerId,62994/
8http://www.beaffinitive.com/clients/casestudy_dqviii.html
9http://www.ruderfinn.com/life-style/entertainment/case-studies/square-enix.html
Cite this page
Choose cite format:
APA
MLA
Harvard
Vancouver
Chicago
ASA
IEEE
AMA