I have successfully completed a Master of Science degree in Electrical and Electronic Engineering from a top university in the United Kingdom, graduating with a Distinction (First Class Honours equivalent). I am soon to be a full-time doctoral researcher at a reputable university in the United Kingdom with a focus on software development for the automation and optimisation of RF and EM engineering designs. As an astute researcher, I have worked with teams and individuals in the following areas: antenna design and optimisation, technical writing and documentation, project evaluation, monitoring and management, electrical services installation, computer-aided design and drafting.
My core areas of competence include, but are not limited to: data analysis, software design and development, building services, electronic design and development, technical analysis and documentation, programming, project management, risk management and information systems management. I possess the needed proficiency to competently deliver optimal outputs and associated reports in these areas: Android Applications, C, C++, C#, Windows CE Mobile and Desktop Applications, MATLAB and Simulink (Mathematical Computation, LTE Physical Layer, Digital Communication Blocks, Noise Reduction Methods, Image Processing and Compression), Python, HTML/CSS, Data Analysis (Descriptive and Inferential Statistics: SPSS, MS-Excel, R, MongoDB, NumPy and Pandas), JavaScript, Embedded Systems (Arduino IDE and Board, Interactive C and Handy-Board, prospects in MikroC and PIC MCUs).
Developing Effective Graphic Communications
Graphic communications fall into the broad class of non-verbal communications. The processes associated with the development of graphic communications involve the interpretation of data and exchange of information through the use of well arranged and structured elements, symbols, depictions and illustrations (Oladumiyte, 2014). To develop effective graphic communications, a high level of clarity, coherence, consistency and mutual intelligibility must be ensured in all the associated processes. In other words, end users of developed graphic communications must be able to decipher, interpret and act on the message conveyed by the authors clearly, coherently and consistently. (State University of New York, 2008)
The primary essence of graphic communications is to capture ideas and concepts that may be too complex and or cumbersome to express verbally or in full text formats in visually appealing frames or designs (Pennisi and Winder, 2011). Developing an effective graphic communications places a demand on authors or originators to focus strongly on concepts and designs that are firmly rooted in the end-users' or recipients' framework of understanding (Moore, 1997). As a vital routine in professional communications, the scope of graphic communications is multidimensional. However, the perspectives for the evaluation of the effectiveness of graphic communications are unambiguous. As inferred by (Carr and Harrington, 2011), these perspectives can be identified through an understanding of the strengths and weaknesses of visual perception.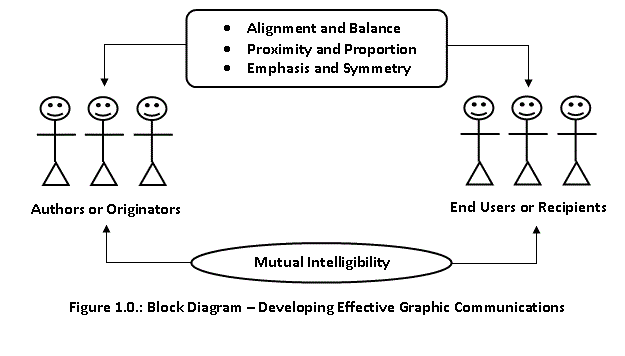 As depicted in figure 1.0, some of the perspectives to take cognisance of in developing an effective graphic communications include alignment and balance, proximity and proportion, emphasis and at the risk of repetition, mutual intelligibility. Though these perspectives bear a similitude in their roles, they offer marked distinctions which can be clearly understood. (Pennisi and Winder, 2011)
REFERENCES 
Carr, R. and Harrington, M. (2011) Effective Communication through Visual Design: Tables and Charts
Retrieved from: http://aaude.org/system/files/documents/public/strategy-institute-handout-final.pdf
Moore, H. A. (1997, January). Developing Effective Graphic Trial Communications Modification of a paper presented at the Defense Research Institute Seminar on Products Liability, San Diego, California. Retrieved from: http://trialpractices.com/PDFs/Graphictrial.pdf
Pennisi, L. A. And Winder, Alexis A. (2011, January) Effective Graphic Design (University of Nebraska – Lincoln Extension, Institute of Agricultural and Natural Resources) Retrieved from: http://ianrpubs.unl.edu/live/g2031/build/g2031.pdf
Oladumiyte, E. B. (2014, July). Graphics Communication an Appraisal of an Art of Learning in Contemporary Nigerian Education, Art and Design Review, 2, 29 – 39. http://dx.doi.org/10.4236/adr.2014.23005
State University of New York (2008) Handbook for Effective Professional Communication (Faculty of Forest and Natural Resources Management Undergraduate Education Committee) Retrieved from: http://hplengr.engr.wisc.edu/Prof_Comm.pdf