Please see below a sample paper written by an Ivory Research academic writer. We have expert writers in all subjects. Why not choose your writer by
browsing their profiles
to learn more about their specialised subjects? If you would like us to help with your essay, assignment or dissertation simply complete our
order form
for your FREE quote. All work is protected by our unique 10 point guarantee.
The analysis of quality control as a process
Abstract
This report documents the analysis of quality control as a process. Firstly, a clear description of the process is provided, indicating any interface to other relevant processes, records and documentation. It is shown that processes ought to interrelate within an organisation to produce the most efficient products whether they be goods, software or services. Secondly, the report illustrates the notion of turtle analysis and the quality control diagram was undertaken. Finally, Dyson Limited, having a strong reputation as producer of high quality products, was taken as a case study to identify indicators for measuring quality control performance and also to derive ways to assess and monitor the process.
Introduction
A process can be defined as a structured, measured set of activities designed to produce a specific output for a particular customer or market. It implies a strong emphasis on how work is done within an organisation. According to Thomas Davenport, a process is a specific ordering of work activities across time and space, with a beginning and an end and clearly defined inputs and outputs. He also added that processes are the structure by which an organisation does what is necessary to produce value for its customers (Thomas, 1993).

A process can be operational, management and supporting. An organisation may contain many processes such as processes in sales, production planning, handling of complaints, quality control, procurement, supply, logistics and others. These processes often interact within an organisation to produce effective and efficient results.
The report focuses on the analysis of quality control as an operational process. Quality control is a process employed to ensure a certain level of quality of a product or service. It may well include whatever action an organisation deems necessary for the control and verification of certain characteristics of a product and/or service. The general basic goal of quality control is to make certain that products and/or services meet specific requirements and are dependable, satisfactory and fiscally sound.
The report is divided into four parts and the first part provides a clearly structured description of quality control process. The second part of the report illustrates how the process under analysis interfaces with other relevant processes, records and documentation. The third part of the report gives a detailed turtle analysis of quality control. Dyson Limited is taken as a case study in the last part of the report to identify appropriate indicators for measuring the process performance and to specify how to monitor and assess the process.
Quality control process description
Quality control is simply the control of quality of a product or service. The term quality refers to a product or service that fulfils or exceeds customers' expectations. These expectations are based on certain parameters such as the intended use and the selling price. For example, a customer expects a different performance from a plain steel washer than from a chrome-plated steel washer because they are a different grade. When a product or service surpasses customers' expectations, this could be considered as quality. The performance of the product is determined by the organisation whereas the expectation is determined by customers.
As a process, quality control is the use of techniques and activities to achieve, sustain and improve the quality of a product or service (Besterfield, 2004).
Quality control involves integrating a number of techniques and activities. Among others, the following are the most important:
Specifications of what is needed
Design of the product or service to meet the specifications
Production or installation to meet the full intent of the specifications
Inspection to determine conformance to specifications
Review of usage to provide information for the revision of specifications if needed
The quality control process is often based on the utilisation of the above activities to provide the customer with the best product or service at the lowest cost. It is important to mention that quality has nine dimensions, which are performance, features, conformance, reliability, durability, service, response, aesthetics and reputation.
Working closely with other processes, the table below illustrates some activities related to the quality control process.
| | | |
| --- | --- | --- |
| Quality planning | Quality control | Quality improvement |
| Establish quality goals | Choose control subjects | Prove the need |
| Identify customers | Choose units of measure | Identify projects |
| Discover customer needs | Set goals | Organise project teams |
| Develop product features | Create a sensor | Diagnose the causes |
| Develop process features | Measure actual performance | Provide remedies, prove that remedies are effective |
| Establish process controls, transfer to operations | Interpret the difference | Deal with resistance to change |
| | Take action on the difference | Control to hold the gains |
Interface to other relevant processes, records and documentation
In the vast majority of organisations, quality control interfaces with other processes to produce the most efficient products or services. These processes could be marketing, design engineering, procurement, process design, production, inspection and testing, packaging and storage, and also product service. Figure 1 below illustrates the quality control and the departments that may well be responsible for quality.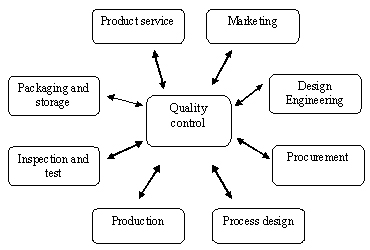 Figure 1: Quality control web
The quality control web can be explained as follows:
Marketing helps to evaluate the level of product quality that the customer wants, needs and is willing to pay for. In a successful organisation, the quality control department should have clear communication lines with the marketing department because product quality data and quality requirements are often available there. Furthermore, marketing is the liaison with the customer and as such is a vital link to the development of a product that surpasses customer expectations.
The quality control department also needs to be in constant communication with the design engineering department as the design engineering translates the customer's quality requirements into operating characteristics, exact specifications and appropriate tolerances for a new product or revision of an established product. No design is perfect over time, therefore provision must be made for design change control. Also, there should be a periodic re-evaluation of the product in order to ensure that the design is still valid.
Using the quality requirements established by design engineering, procurement has the responsibility of procuring quality materials and components. The procurement department also has a direct connection with the quality control since materials and components are often checked for quality prior to purchase.
Process design has the responsibility of developing processes and procedures that will produce a quality product.
Production has the responsibility to produce quality products. Quality cannot be inspected into a product; it must be built into the product.
Inspection and testing has the responsibility to appraise the quality of purchased and manufactured items and to report the result.
Packaging and storage has the responsibility to preserve and protect the quality of the product. In most organisations, control of the product quality extends beyond production to the distribution, installation and use of the product.
Product service has the responsibility to provide the customer with the means for fully realising the intended function of the product during its expected life. Products should be serviced quickly whenever they are improperly installed or fail during the warranty period for example. Prompt service can change a dissatisfied customer into a satisfied one.
The documentation and records related to quality control may vary from one organisation to others. Universal Industrial Products, Inc (UIPI) is a public organisation based in San Francisco. They are manufacturers of large diameter slewing bearings. The quality documentation at UIPI includes (UIPI, 2006):
Organisation chart
Quality control process chart
Bearing manufacture process report
Production schedule
Forging receipt inspection report
Production process inspection report
Gearing receipt inspection
Heat treatment receipt inspection report
Measurement equipment inspection report
Final inspection report, quality record list
Customer feedback record
Document check out application
Document revise record.
Turtle analysis
A turtle analysis is an efficient way to illustrate a process approach. It consists of identifying some elements associated with a process:
Inputs to the process: these are the need and requirement of the customers
Outputs from the process: these are what the customer gets, satisfaction
With what the process is undertaken
Who is undertaking the process
How: the how defines the instructions and the process methods
How many: defines the indicators for the process efficiency and effectiveness.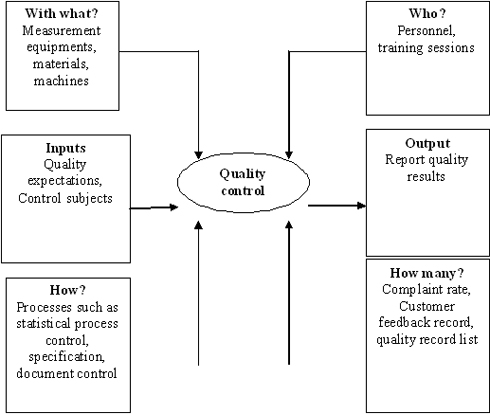 Figure 2: A turtle analysis for quality control
In most successful organisations, not to say all, quality control is usually done before, during and after the production process. Therefore, given the quality expectations, the inputs to the quality control process could be based on checking and reviewing any purchased parts from the procurement process, any designed parts and even any manufactured parts from the production process. When a fault is detected on the purchased or manufactured items, the quality control department reports it. The reports from the quality control process are often used by other departments to take corrective action when needed.
The control of quality is usually done by some specific operators or personnel. These people often receive periodical training sessions. The primary objective of these sessions is to develop an attitude of quality mindedness and an environment where two-way, non punitive communications can flourish.
Case study – Dyson Limited
Dyson Limited is an electric domestic appliance manufacturing company headquartered in the UK. Dyson's principal activity is researching, developing, manufacturing and selling chemically-based performance materials, advanced material and thermal application products used in a variety of industries. Most of the technology is done in the United Kingdom while the production is in Malaysia (Wrightreports, 2008).
Dyson's products include vacuum cleaners, washing machines and hand driers. Initially, all Dyson vacuum cleaners and washing machines were made in England. In 2002, the company transferred vacuum cleaner production to Malaysia, keeping the Research and Development (R&D) operations at the firm's base in Malmesbury, Wiltshire.
The Dyson organisation is a big company that is established in about 50 different countries and employs 1,500 people in the United Kingdom and over 4,000 overseas. The Dyson company consistently comes up with better design, better technology, better quality and better engineering which helps the company differentiate itself from its competitors. According to Dyson, assembly comes at the very end of a long period of research, design and development, therefore manufacturing goes beyond making things in the factory (Kelly, 2009). Dyson also added that quality control is a critical element of the development process at the company (Times Online, 2010).
It is well known that when quality is promised by a company to its customers, and the company itself stands by the promise very well, then the chances of customers' satisfaction retention will mostly be high. Thus, it comes as a must for companies to be in the know in developing metrics for quality. This way, the road to success is better paved. Key performance indicators are then needed for this endeavour. For this reason, quality has always been an important aspect when it comes to success at Dyson Limited. This is evident from the high reputation of the Dyson company. Moreover, the quality process plays a major role in the Dyson company since one of Dyson's goals and objectives is to come out with products with better technologies and, more importantly, better quality. Choosing such a company is a good example to identify appropriate indicators for measuring the quality control process.
There are various indicators for measuring processes. These may well vary from one company to another and from one process to another. It is always a good idea to identify performance indicators which are relevant to a particular process and a company's goal and objective.
Dyson controls and measures the quality of its product on the one hand internally via multiple testing of its products and continuous quality improvement. For instance, during an interview with Ruth Wilson, James Dyson affirmed, "We are one of the few manufacturers to have our own, in-house testing facilities, including an EMC (electromagnetic compatibility) chamber – as well as performance and durability test areas. We run more than 100 tests on each machine before it goes into production and Dyson engineers spend 30,000 hours a month testing machines to make sure they are happy with their performance and reliability" (Times Online, 2010).
On the other hand, another indicator for measuring the quality control process is via the direct recipient of Dyson's products and services, the customers, since they are the best source when it comes to determining customer satisfaction. These are new customers acquired, status of existing customers, customer attrition or loss of customers and also demographic analysis of potential customers seeking to become customers.
The performance of Dyson's quality control process is to monitor and assess firstly internally by using some preventive maintenance (total productive maintenance) and continuous improvement of the process. Secondly, Dyson also uses some external methods (through customers) to assess the performance of the quality control process. These are the conducting of surveys, the monitoring of telephone records and the analysis of complaint rates.
By conducting surveys, Dyson gets feedback from its customers and that feedback can be positive or negative but in any case helps Dyson to assess the quality of its products and services. Below are three results, customers' opinion from surveys with Dyson's customers.
Karl Plummer, from Ipswich in the UK, said: "I have had my Dyson for 3 years and had one problem which Dyson sent out a replacement, which was received the next day, far better service than any other I have received with other makers" (BBC, 2004).
Chris Wakefield, UK, said: "I have had a Dyson upright for 2 years, The machine might be powerful but it easily clogs up and needs servicing often. In the repair shop, I took ours, about a third of all the machines to be repaired/services were Dysons" (BBC, 2004).
Justin from London said: "We have had our Dyson vacuum cleaner for 4 years now and it has never failed to be anything but superb – it is still going strongly and doesn't show any sign of problems. I have also got the Dyson washing machine and that is an absolutely incredible washing machine, superbly built and stunningly fast performance. All in all, I would never buy anything else than a Dyson and I am looking forward to them making more home appliances" (BBC, 2004).
Conclusion
In reality, quality is not the responsibility of any one person or functional area; it is everyone's job. The quality control process should be a crucial process in any successful company since the performance of this process may well determine how successful the company may be. Having provided a clearly structured description of quality control, it was observed that quality control ought to interface, exchange information, with other processes. For instance, a desired result is achieved more efficiently when processes and related activities interface with one another.
Dyson Limited is a well-known successful company with its high quality products. In that sense, the quality control department as well as the R&D department are the principal priorities for Dyson's organisation. Owing to that, Dyson Limited was taken as a case study to identify some appropriate indicators for measuring quality control process performance and ways to monitor and assess the process.
Writing this paper was very interesting and challenging. On the one hand, it gives insight into the idea of how to undertake a process analysis, describing topics like turtle analysis and key performance indicators. On the other hand, it can be concluded that the control of quality develops the viewpoint that product and service quality requires managerial, technological and statistical concepts throughout all the major functions of an organisation.
References
BBC (2004). Dyson 'Ranks last in reliability'. [Online] Accessed on 12 May 2010 at http://news.bbc.co.uk/2/hi/uk_news/3688983.stm
Besterfield, D. H. (2004). Quality Control. New Jersey: Pearson Education, Inc.
Kelly, G. C. (2009). 358.
Knowledge management at Dyson. (2006). [Online] Accessed on 08 December 2009 at http://www.oup.com/uk/orc/bin/9780199288304/henry_ch05.pdf
Times Online. (2010). Ask James Dyson. [Online] Accessed on 12 May 2010 at http://www.timesonline.co.uk/tol/news/science/eureka/article7012161.ece
Thomas, D. (1993). Process innovation: Reengineering work through information technology. Harvard Business school press, Boston.
UIPI (2006). Manufacturer of large diameter slewing bearing. [Online] Accessed on 12 May 2010 at www.ui-pi.com/index/quality.asp
VMH International (2007). Dyson innovation yields revolutionary products. [Online] Accessed on 14 December 2009 at http://vmhinternational.com/wp-content/uploads/2008/11/consumer_dyson.pdf
Wrightreports (2008). [Online] Accessed on 07 December 2009 at http://wrightreports.ecnext.com/coms2/reportdesc_COMPANY_C826UM060
Copyright © 2005-2020 Ivory Research Co Ltd. All rights reserved. All forms of copying, distribution or reproduction are strictly prohibited and will be prosecuted to the Full Extent of Law.