Samsung Electronics Company Profile
Published: 2021/11/18
Number of words: 868
BACKGROUND AND HISTORY
The company I am going to consider for my case analysis is the Samsung Electronics Company Limited, its website is http://www.samsung.com and it operates under the Consumer Electronics industry (Rhee, 2020). Globally, the South Korean-based company engages in device solutions, mobile communications and information technology as well as consumer electronics businesses. The company deals in many products which are not limited to audio products, virtual reality, wearables, tablets, mobile phones; home theatres and TVs; LCD and OLED panels; printers, monitors, system LSI products, chrome books, computers, laptops; home appliances, e.g., heating products, vacuum cleaners, dryers, dishwashers, microwaves, cooktops and hoods, air purifiers, ovens, air conditioners and refrigerators.
Some of the key timelines and events in the history of Samsung Electronics Company Limited are 1938; the company was founded by Lee Byung-Chul (Chnag, 2010). In the 1960s, the company is born as a branch. As at that point, Samsung starts the acquisition and establishing of diverse business entities, e.g., department stores and life insurance companies. In the 1970s, the company starts expanding to the international market. In the 1980s, a merger with Samsung Semiconductors and Telecommunications sees Samsung become a major player in the international market. In the 1990s, the company becomes a global conglomerate and turns into a tech world major competitor. In recent years, the company is South Korea's largest conglomerate. The current structure of the Chief Executive Officer (CEO) of Samsung Electronics Company Limited sees three individuals at the helm, Dong Jin Koh, Hyun Suk Kim, and Kim Ki Nam. A fall by 5.4% in revenue from 2018 was recorded in 2019 which represents $194.43 billion in revenue. Meanwhile, the operating profit was $24.43 trillion which represented a fall by 53% from 2018 (Haizar, 2020).
Need an essay assistance?
Our professional writers are here to help you.
Place an order
ANALYSIS VIA PORTER'S FIVE FORCES MODEL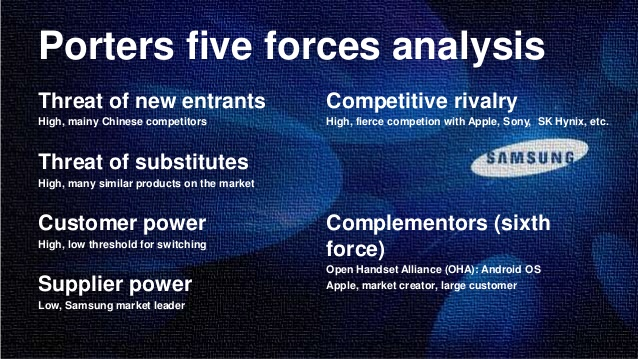 STRATEGY USED
The leading position of the Samsung Electronics Company has been sustained owing to its technological innovation focus. Brand image, marketing, supply chain and advanced technology are some of the company's core strengths. The reason for the growth of Samsung's competitiveness and profitability lies in its marketing strategy. Products' quality and customers are the main focus of their strategy (Jung, 2014). Yearly, brand and products promotions are conducted using huge sums of money. Over $1 trillion was used in 2018 in advertising and sales promotion. This serves to cement Samsung's position as a global leader. Companies in the industry can also use this strategy to boost their sales and brand image. Distributors and suppliers form a part of a more extensive value system in a firm's value chain according to Michael E. Porter. The managers are forced not to view the value chain steps as a cost but as important steps towards value addition of final services or products.
SPECIFIC STRATEGIES
Primary activities
These activities comprise producing and selling merchandise to the focus clientele. These activities can improve the company through; inbound logistics, operations, outbound logistics, sales, and marketing.
Secondary/support activities
These activities facilitate and coordinate the primary activities. The company can benefit from these activities through; firm infrastructure, human resource management, technology development and procurement.
Worry about your grades?
See how we can help you with our essay writing service.
LEARN MORE
PORTFOLIO MANAGEMENT AND THE BCG MATRIX
The company's analysis using the BCG matrix is as follows:
Cash cows. The cash cow for the company has been identified as the home appliances.
Tablets and mobile phones manufactured by the company can be viewed as the stars.
Question marks. The Galaxy 7 has been identified as a question mark by the company due to its overheating battery.
The galaxy smart watch has continuously been a source of losses of company since it has bot become a major hit in the market.
COURSE OF ACTION RECOMMENDED
If I was in a position to advise the company, I would advise it to utilize the pricing strategy. A large customer base and a brand's competitive strength are fostered by this strategy. The company should diversify its merchandise to include products for high-end and low-end markets.
OPINION
The case study compiled is informative and one can learn that as the electronics industry is continuously growing, Samsung Company ought to embrace practices and tactics that help it maintain its existing competitive edge.
REFERENCES
Chnag, J. H. (2010). Samsung Founding Chairman Lee Byung-Chull's Place in Korean Business Management. SERI Quarterly, 3, 58.
Haizar, N. F. B. M., Kee, D. M. H., Chong, L. M., and Chong, J. H. (2020). The Impact of Innovation Strategy on Organizational Success: A Study of Samsung. Asia Pacific Journal of Management and Education, 3, 93-104.
Jung, S. C. (2014). The analysis of strategic management of samsung electronics company through the generic value chain model. International Journal of Software Engineering and Its Applications, 8, 133-142.
Rhee, I. Y. (2020). Engagement and integrity as the core of communication with examples from Samsung Electronics. Science Editing, 7, 73-77.
Cite this page
Choose cite format:
APA
MLA
Harvard
Vancouver
Chicago
ASA
IEEE
AMA