Marketing Training Manual
Published: 2021/12/01
Number of words: 1877
Introduction
Marketing involves the process of management that is concerned with the movement of goods and services from production to the consumer (Ellis and Waller, 2017, pp 95-106). Carrefour is the second largest retail store in the world. It was established in 1957 in France; however, its first store came into existence in 1960. It has outlets in the world in 30 countries and has approximately half a million employees.
Carrefour marketing process involves coordination of four elements referred to as the 4Ps of marketing. The process involves: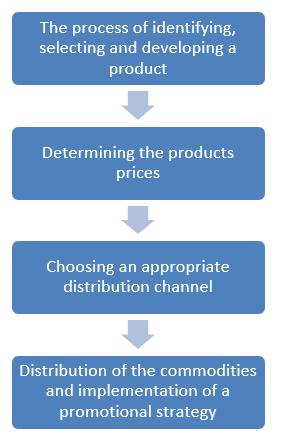 Need an essay assistance?
Our professional writers are here to help you.
Place an order
Carrefour marketing process involves coordination of four elements referred to as the 4Ps of marketing. The process involves: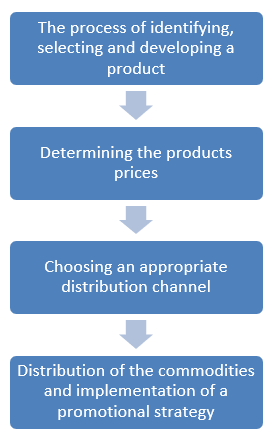 Carrefour runs hypermarkets, supermarkets, convenience stores among other retail stores.
An examination of Carrefour marketing process.
The marketing process is a combination of four processes, which include: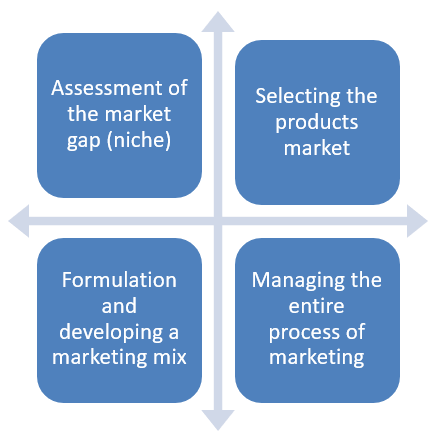 Assessment of the market gap (niche)
Since its inception in 1960, Carrefour has worked towards expanding its operation in both the developed markets and emerging markets. Its relative success has been founded on the ability to evaluate the opportunities available in the different market. The organization conducts extensive market research and analysis to determine the opportunities available in the market. Carrefour also relies on information from MIS (Marketing Information System).
Selection of the Target market
Selection of the target is essential in the Carrefour marketing process as it determines the goods and services that will be availed to the consumers. Carrefour employs three strategies in its market selection process which include market segmentation, market targeting, and market position. Market segmentation refers to how markets are split into different units each with their different needs (Tomczak, Reinecke and Kuss, 2018, pp. 1-18). Carrefour establishes hypermarkets, supermarkets, convenience stores and multi-channel stores depending on how the market is segmented. Market targeting entails streamlining organization products to address the needs of a particular group of consumers. Carrefour has set up hypermarkets to cater for major weekly shopping by families. Marketing positioning refers to how a company sets itself in the minds of the customers. Carrefour has set itself as a retail store that offers high-quality goods at affordable prices.
Formulation and development of the Marketing Mix
A marketing mix is a plethora of techniques that a producer can use to drive the purchase of its goods and services. Carrefour employs the 7Ps marketing mix. The 7Ps marketing mix includes product, price, place, promotion, people, process and physical evidence.
Management of Marketing Efforts
This is usually defined as the active phase of the marketing process. It involves selection of an appropriate marketing mix to address the needs of a specific target market.
Carrefour manages its marketing effort through: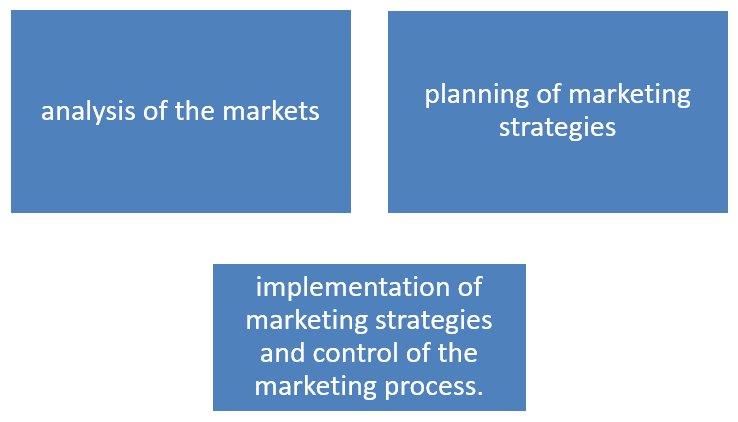 An analysis of Carrefour's internal and external environments.
A business does not operate in Isolation. Both the internal and external environment affects Carrefour operations. Components of the external environment such as the demography, economy, technology, and politics affect the daily operations of Carrefour. The internal environment like management structure, policies and employee structure affect Carrefour's operations.
Components of Carrefour's Business Environment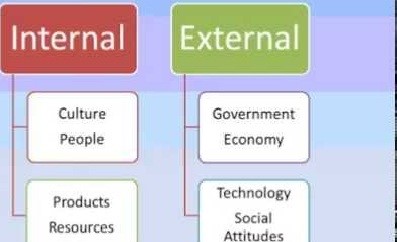 External Environment
Demographic environment
Since its inception in 1960, Carrefour has continually expanded its operations in other countries. Carrefour has stores distributed in over 29 countries. The world population has been increasing which means an increase in the market size for Carrefour.
Economic environment
The 2009 worldwide recession meant led to a reduced economic growth worldwide. There was widespread inflation. In 2004 when there were low-interest rates, Carrefour expanded its operations by venturing into new regions, which offered new sets of clients. The strong economic growth in the UAE was one of the motivating factors that pushed Carrefour to set its operations in UAE (Azab, Key and Clark, 2017, pp210-227).
Political environment
Carrefour operations are significantly affected by the prevailing political environment. Carrefour's entry into the UAE was motivated by the relative period of political stability experienced in the UAE in 1995. In Thailand, when the government set out oversea ownership regulations which required overseas enterprises except those from the US firms not to have more than 49 % of the shares; Carrefour perceived the move as a way of strengthening its competitor Wal-Mart.
Social-Cultural Environment
Carrefour's establishment of hypermarkets has been primarily influenced by the social-cultural environment. For instance, Carrefour decision to set up the Hypermarkets in Dubai, Abudhabi, Sharjah and Ras Al Khaimah was driven by the Arabs culture. In most Arab societies, the families usually converge in a specific place during weekends to unwind and relax.
Technological environment
Technological developments have had profound effects on Carrefour's operations. For instance, Carrefour adopted the Multichannel strategy due to the development of technology, specifically the growth of the internet.
Internal Environment
Employees
Carrefour has about 500000 employees who are spread out in 30 countries. The staffs are thoroughly trained so that they can be able to meet the needs of their customers. The employees are also competitively remunerated which motivates them to work hard towards achieving Carrefour's goals and objectives.
Organization Structure
Carrefour has a formal reporting structure, which makes it easier to control the eight markets of the company. Carrefour also has centralized IT department, which facilitates more accessible and efficient control of its activities.
Market Segmentation
Market segmentation involves the process of dividing a particular market into different components or groups, which have different characteristics. Companies segment their markets to gain a competitive advantage over other firms.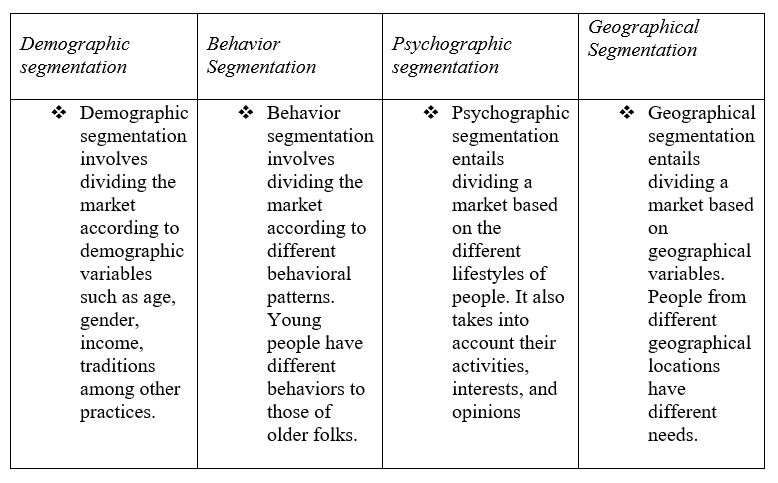 Marketing Segmentation methods used by Carrefour.
Geographical Segmentation
Since the failure of Carrefour's retail store in the US in the 1980s, Carrefour had to readjust its marketing strategy. The company began channeling its effort into emerging markets instead of the developing markets. Most of Carrefour stores are set up in urban settings.
Psychographic segmentation
Carrefour has used psychographic segmentation by taking into account the different lifestyles of its consumers. For instance, it sets up hypermarkets in population, which are composed of individuals who want high-end lifestyles when shopping. The hypermarkets offer an avenue for the clientele to have coffee, watch movies and do their weekly shopping.
Demographic segmentation.
Carrefour also employs demographic segmentation by channeling its stores in high-end urban settings. The segmentation here is based on the income status of the households which is a demographic variable.
Identification and analysis of the B2C target markets of Carrefour
B2C marketing is concerned with the business to consumer relationships (Demo and Watanabe, 2017, pp 42-69).Unlike enterprises, consumer purchases are usually driven by emotion. Consumers are most likely to be affected by impulse buying compared to companies.
Examples of Carrefour's target markets
Hypermarkets-The Carrefour's hypermarkets target high-end markets in urban settings.
Fig 1.0 One of Carrefour's hypermarkets
Supermarkets-Carrefour's supermarkets usually target the average consumer. The supermarkets have everyday household goods made up of food and non-food items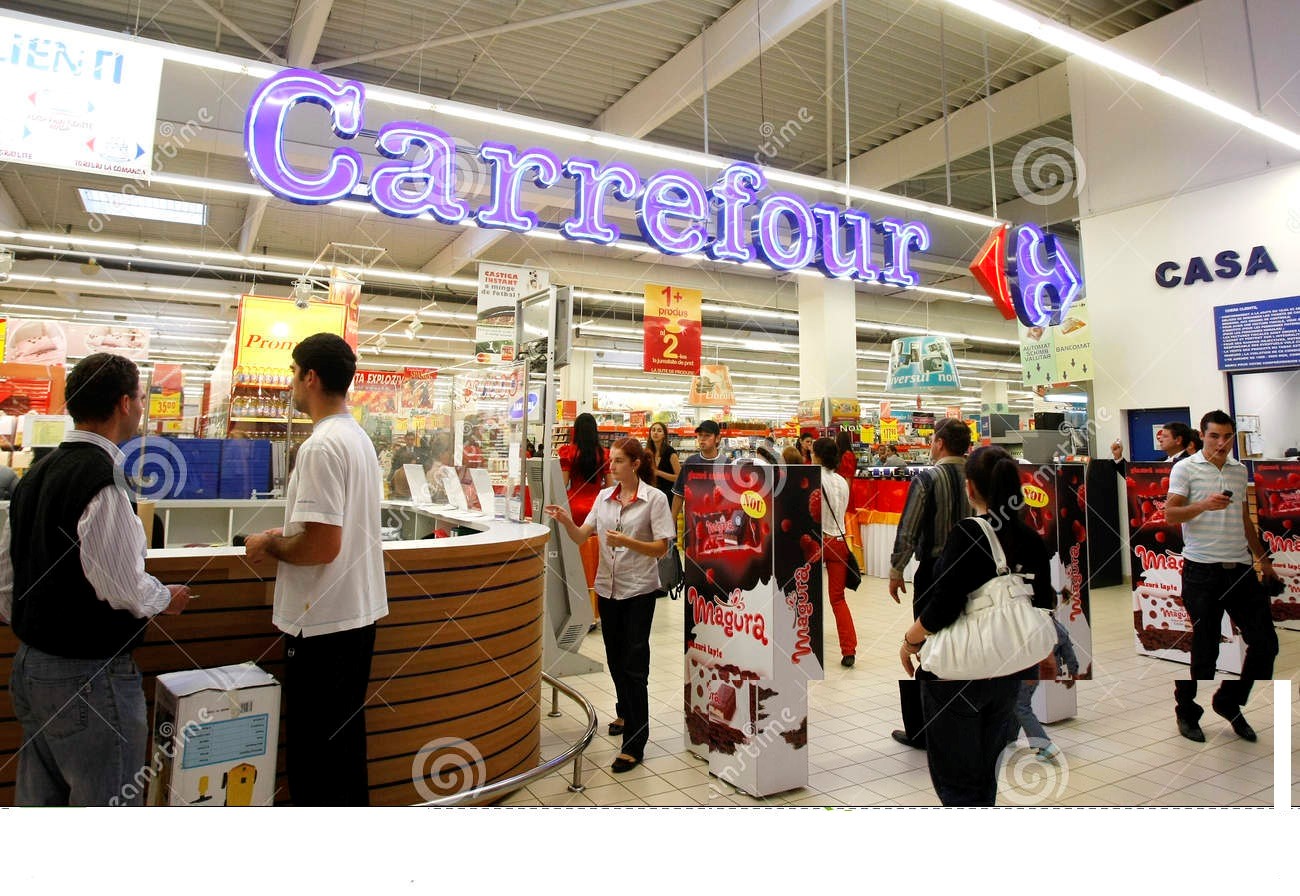 Fig 2.0 Inside image of Carrefour's supermarkets
Convenience stores-Convenience stores target the local customer. They are set up to address the needs of the local consumer. Most of them usually open to late night and are located near the consumer's location.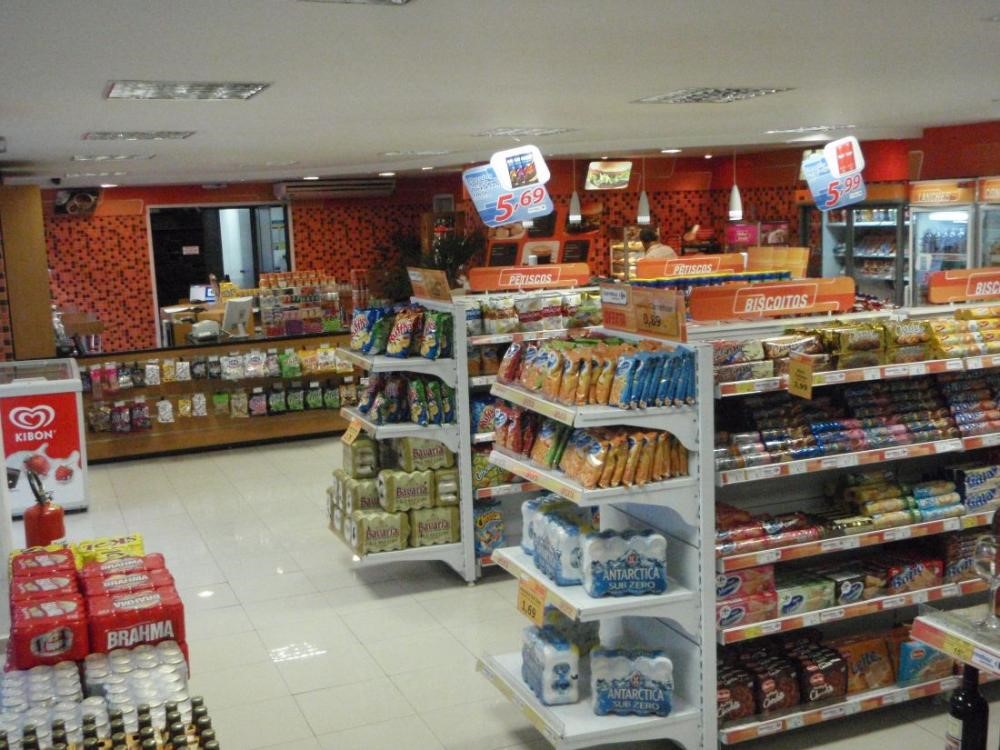 Fig 3.0 An image of one of Carrefour's convenience stores
Multichannel stores-The multi-channel stores target mainly the digital consumers who engage in m-commerce and e-commerce.
Market Positioning of Carrefour.
Positioning entails the creation of the image an enterprise wants to create and develop in the eyes of its consumers (Kotabe and Helsen,2014, pp 18-25). Carrefour over the years has adopted value positioning and quality positioning.
Value positioning
All Carrefour retail stores are known for providing quality goods at affordable prices. Carrefour tends to have low prices for the goods, which are sensitive (The products whose price is inelastic).Imported commodities tend to attract high prices. On the other hand, the in-house goods branded by Carrefour have prices, which are dependent on the interplay of the forces of supply and demand.
Quality positioning.
Whether it is the in-house branded commodities or the imported commodities, Carrefour always ensures it provides quality goods and services to its consumers. Recently Carrefour introduced 'MY CLUB' loyalty card to its members to reward its members who shop with them consistently (Majid et al, 2017, pp 1006-1029).
Worry about your grades?
See how we can help you with our essay writing service.
LEARN MORE
Recommendations
To take advantage of the growing market, Carrefour should restructure its market segmentation in the emerging economies. In most of the emerging economies, Carrefour uses demographic segmentation based on income. Consequently, in some of its hypermarkets, some of the goods are overpriced. This ends up pushing new customers who may not have such high levels of income; this reduces the overall number of sales.
Carrefour also has to revise its psychographic market segmentation. It has been shown that in the long run, it is not beneficial concentrating on tailoring your products and services to the individuals with the flashy lifestyles. The company has to revise its model so that it can be able to cater for individuals who may not have significantly higher amounts of income.
References
Azab, C., Key, T.M. and Clark, T., 2017. Country Market Sequential Order-of-Entry: A Learning Effects Approach. Journal of Global Marketing, 30(4), pp.210-227.
Demo, G., Watanabe, E.A.D.M., Chauvet, D.C.V., and Rossetti, K., 2017. CUSTOMER RELATIONSHIP MANAGEMENT SCALE FOR THE B2C MARKET: A CROSS-CULTURAL COMPARISON. RAM. Revista de Administração Mackenzie, 18(3), pp.42-69.
Ellis, R.B., and Waller, D.S., 2017. Marketing education at the University of Melbourne. History of Education Review, 46(1), pp.95-106.
Kotabe, M. and Helsen, K., 2014. Global marketing management,pp.18-25
Majid, H.M.A., Sharif, S.A., Sulong, S.N., Omar, M., Yassin, S.S., Raju, R., Zakaria, Z. and Zakaria, F., 2017. Small and Medium Enterprises (SMEs) future development: a comprehensive review of customer retention programme in retaining customer loyalty. Journal of Fundamental and Applied Sciences, 9(5S), pp.1006-1029.
Tomczak, T., Reinecke, S., and Kuss, A., 2018. Introduction. In Strategic Marketing (pp. 1-18). Springer Gabler, Wiesbaden.
Cite this page
Choose cite format:
APA
MLA
Harvard
Vancouver
Chicago
ASA
IEEE
AMA