Essay on Managing Business Activities To Achieve Results ABC Ltd
Published: 2022/01/11
Number of words: 3957
Introduction
Managing business activities to achieve results has been one of the key elements for organizations since the beginning of the Industrial revolution. There has been high demand in the management of business goals. Such goals need to be in line with other activities in order to ensure that organizations meet its highest limit. Such goals cover business processes, plans for the organization as well as monitoring of performance (Anttila & Jussila, 2013). Therefore performance management covers all aspects that ensure organizations meet their corporate goals.
It focuses on the performance of employees, departments and products. Business organizations, schools and other institutions manage business activities to achieve goals. This form of management is an important strategic tool for many organizations around the globe (Pett, 2015). Such strategies are important in aligning various aspects of the organization to reach global competitive levels.
Need an essay assistance?
Our professional writers are here to help you.
Place an order
It assists in the improvement of business capabilities, employees' performance levels as well as departments. The management of such activities may concentrate on departments or individual persons. In application management of business activities has its share of benefits to the organization. In applying this practice an organization is able to align its objectives with their operational and strategic goals. In the current organization environment, business may utilize various software programs in the management of business activities (Smith & Fingar, 2003). However in managing businesses, activities may not run as planned. In some instances, business activities receive a negative response. The benefits organization gets from this strategic goal include growth in sales, reduced cost of management and stop organization overruns. The activity is also an important factor in motivating employees (Anttila & Jussila, 2013).
Business Processes and Business Goals
Interrelation between Process and functions of the Organization
In definition, process refers to the actions that an organization performs. Every organization has its system that determines how resources are deployed and utilized. Therefore one can state that process refers to the activities of an organization. An organization might be one entity however its processes might transcend multiple activities with multiple actors. For example if one decides to look into ABC Company that deals with recruitment, there might be various departments that make up the organization. The functional department might be tasked with collection of data of recruits. Their main function in this case will be outsourcing.
The other unit might be responsible for sales and marketing. The role of this unit involves the development of interest to recruits and companies. Their other role might be communicating consumers' needs to Head of human resources. Departments have its leadership structures (Smith & Fingar, 2003).
Organization on the other hand, provides an idea on how individuals are managed in organizations. In retrospect, processes refer to how activities are done. Therefore providing changes to the structure of the organization will automatically lead to confusion within departments. In order for an organization to meet its goal various functional units needs to observe their roles. In large organizations, there is a need to align various departments towards the overall objective (Anttila & Jussila, 2013). Teams need to understand their roles and functions towards corporate goals. The main levels of management of processes in organizations are; managers, supervisors and operators.
Organization Structure ABC Company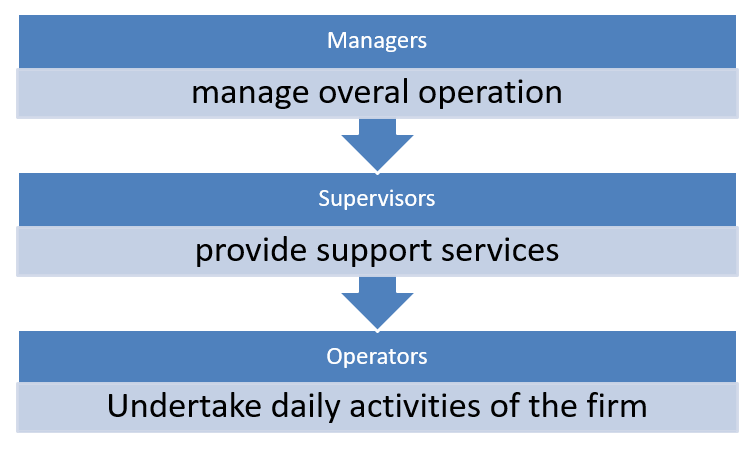 These groups of individuals in an organization assist in the integration of processes and functions within teams. Managers are responsible for planning and organizing department with respect to external and internal factors. They closely work alongside other mangers in organizations to improving accuracy and driving efficiency (Pett, 2015). Supervisors on the other hand, are responsible for maintaining teams observe processes and procedures effectively. Operators are responsible for the attainment of day-to-day activities.
This team require individuals with a high degree accuracy as well as efficiency. However in meeting these goals, there is a need for assistance from other departments. The human resources and finance departments are some of the departments supporting organization processes. The finance department assists in managing funds flow. The human resources department assist in the process of forecasting, recruitment and selection (Smith & Fingar, 2003). Managers in the process of organizations may be called a process owner. Process owners need to work together to effectively meet organization goals.
Goal Alignment and Organization Business Goals
ABC Company has been facing many problems in the recent past. Managers have been blamed for poor management practices. In the management of organizations, employees are the most valuable asset as well as the most expensive item (Schniederjans & Cao, 2009). Therefore in order for these organizations to realize full potential there is a need for ensuring that employees perform to their fullest level. There is need to leverage skills of employees to business goals (Anttila & Jussila, 2013). This will have to be the goal of the Human resources teams. The team would ensure that the organization has employees with skill that match the objectives of an organization. In order for an organization to realize the benefits of employees, there is a need of aligning employees' skills to business overall strategy.
Research findings reveal that there is a strong relationship between effective goal setting process and company financial success. According to the report it came out clear that employees working in companies with poor performance did not understand their goals clearly (Anttila & Jussila, 2013). There was poor interaction between their performance and the overall business goals. These groups' employees reported feeling confused about their roles in the organizations. This led to low productivity across business units.
Strategic Alignment
ABC Company has faced many that capture on job loss and poor leadership. To capture this inadequacy the company applies diverse strategic alignment policy. The process of strategic alignment is provision linkages between business resources and the overall goal of the organization. Strategic alignment is an important aspect for organization since it enables optimum use of resources, processes towards the realization of organizational objectives. In order for an organization to fully align its strategic goal there is need for good record keeping (Anttila & Jussila, 2013). The recording manager needs to understand all aspects of the strategic alignment. For example the manager needs to understand the strategy of the organization in a particular format.
The sequence that may be used in understanding strategic alignment may begin with the understanding of the market conditions followed by strategy to use. The next step will consider the values of the organization. The other factor to follow in the consideration is the organization structure, system, staff and style.
Process Map for ABC Company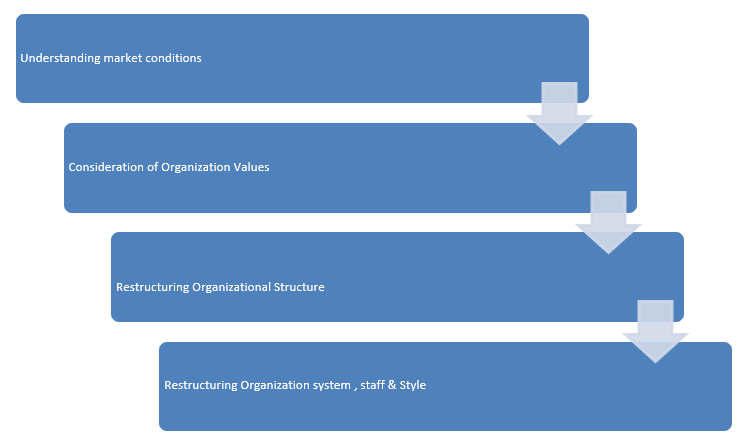 One of the methods of strategic alignment focuses on internal influences of the organization. According to the research, strategic alignment is dependent on four important factors. Strategic alignment is dependent on information, process, technology and services.
Process Approach to Strategic Alignment for ABC Company
One method of measuring strategic alignment in organizations is through utilizing a process approach towards alignment. This is the most appropriate method for ABC company to utilize. Process is one of the most important aspects in optimizing business strategies. Process is related to the whole activities starting from setting of goals to closure of schedules. The value of processes in determining strategic alignment levels include ensuring processes are clearly documented (Anttila & Jussila, 2013). Such documentation might illustrate specific goals as well as individuals responsible for accomplishment. Processes also act as performance indicators. Each process in organizations needs to have performance metric. These metric should be able to indicate levels of performance. Such indicators need to have a measure against the overall strategy of the firm.
Also metrics are important in understanding the levels of satisfaction of external customers. Processes need to clearly have particular time schedule. By indicating such schedules, particular activities will have specific timelines. The other aspect in the utilization of process is through the use of monitors (Schniederjans & Cao, 2009). There is also the need to have audits in every process. Audits and monitors assist organization in keeping track of its processes. The process of monitoring should occur on a regular basis. It may take place on a yearly, semi-annually or on a quarterly basis.
Information is the next important element while utilizing the process approach. Perhaps Peter Drucker one of the founding fathers of the business philosophies had an accurate definition of information. According to him information is data entangled with purpose or relevance (Anttila & Jussila, 2013). Therefore record managers have the task of ensuring relevant data management processes. This may be achieved through observation of specific layers. One of the layers to proper record keeping is ensuring that the data is up-to date. This also means that the data needs to be set in a standard that is easy to classify.
There is also the need for sufficient analysis and understanding of data. Information need to flow seamlessly from external sources to internal audience with minimum errors. The other important aspect of information relates to decision-making. Data managers are responsible for ensuring that information is readily available for decision-making (Smith & Fingar, 2003). Preservation of key information is another key element in process approach to strategic alignment. Historical information as well as ongoing data ensures that business solves current problems.
The other important element focuses on services. Management of services are important since they assist in the management of goals while it does not impede processes. One example of a service is record keeping.
This form of service assists in communication with the internal and external players with what they need to expect. Quality assurance is an important variable in respect to records. The records are of high quality in relaying aspects offered by the organization. Specific quality assurance measures are effective in communicating the level of integrity of an organization. Services might need improvement as well as modifications. Technology is the last element in a process approach to strategic alignment. It focuses on technology able to support the overall business objectives (Smith & Fingar, 2003).
It is imperative to state that without proper technology there might be no effective record keeping procedures. This term might relate to the definition of the best technology to offer record keeping services (Schniederjans & Cao, 2009). Effective technology utilization ensure better communication through the use of emails and record keeping using computers and other storage devices. Technological devices need constant updating. This means that computers and other devices should not be left absolute.
Benefits of Aligning Goals for ABC Company
The advantage of goal setting in an organization relates to operational execution. The process will be effective in solving ABC company operational deficiency. Through goal setting an organization is able to execute its mandate faster. Since all players are aware of the goals, it becomes easier to execute (Butera, 2016). Observation of the same goal ensures that there are no conflicting ideas. Goal alignment ensures organization agility as well as increases the strength of leaders. Goal alignments are effective in communicating organizations expectations; it provides a basis for managing organization objectives. Goal alignment also provides basis for employee's strength and weaknesses.
This is because employees will be able to understand the needs of the organization as well as the ultimate goal. By understanding the goals of the organization employees are able to understand their personal goals. Communicating goals to employees ensures that there is no wastage of time. Alignment of goals also provides conditions for easy monitoring of activities by the management. Goal alignment further motivates employees' engagement. Goal setting ensures engagement by almost all team members. This observation provides for the attainment of firms objective in quickest time possible.
Disadvantages of Goal Alignment
In utilizing the above benefits it is essential to note that ABC Company might face various challenges. By attaining goals, individuals have a high sense of confidence. What if they fail in their quest? They are become discouraged. In respect to this one can state that alignment of goals might lead to low confidence among teams. This aspect comes into play when individuals fail to meet their goals. Setting of unclear goals is another disadvantage of aligning objectives. Unclear goals set teams into wrong directions.
Focusing attention on specific goals might lead to loss of opportunities within an organization. If teams are set on performing certain tasks without venturing outside, there is a possibility of them missing on some important opportunities in the market. Goal alignment might also lead to procrastination. Goal might also be a leading factor contributing to stress and pressure to team members. Stress conditions in organizations have an impact in the performance of employees.
Plans to Promote Goal at ABC Company
ABC Company faces various challenges that affect its operations. One of the key challenges contributing to its demise is poor management. There has been other influence affecting the organization that has led to loss of jobs and delayed service delivery. The goal for the organization is to improve its management, improve service delivery and employee motivation. Therefore an effective plan will be effective in ensuring that the company returns to its profitability level. As an operational manager, my goal deals with daily activities of the organization.
The goals of an operational manager include improvement of operational activities, managing reporting, and information flow and policy creation. At ABC Company there is need for improving efficiency between support departments. It is the goal of the operational manager to assist in the long-term planning of organizations (Smith & Fingar, 2003). There is need for development of individual budgets, oversee planning and financial operations. The goal of an operation manager at ABC Company is to manage payroll, supervise office managers on a weekly basis, and organize fiscal documents and organizational planning.
Day-to day activities: The day to day plan for the project manager of ABC Company is to maintain contacts with the clients. The company has a problem with is leadership structure. It is the function of the project manager to ensure that office manages their operations on a day to day basis. In terms of financial management; the operation manager analyses petty cash spending. The management of petty cash run with the management and the creation of budgets. The other function of the project manager is to ensure that information is disseminated within teams and other stakeholders. The manger ensures this aspect through development of online platforms. Internal networks of communication are also ensured by the management team.
Utilization the Right technology
ABC company faces challenges in communication therefore one of the most important goal is utilization of right technology. The utilization of the right technology will be effective in ensuring communication within teams (Anttila & Jussila, 2013). The external stakeholders of the organization will have a platform of meeting with the goals of the organization using internet platforms. One of the goals of the manager is ensuring adequate communication using the internet and other utilization of mobile platform technology. Utilization of technology is also essential in maintaining integrity. This aspect will be important in ensuring better recording and in analysing the performance of managers.
Protection of Business
Protection of business is another important goal of the organization. The function of the operation manager is to provide effective measures in ensuring protective measures. The business is protected against fraud. Other areas of protection include attacks on its systems. To meet this objective the project manager utilizes a team of professionals in protecting computer resources from attacks. The other goal includes upgrading locks and other facilities that discourage physical entry into business premises.
Sourcing of Funds
ABC Company wants to initiate various projects in ensuring that it returns to its profitability levels. Therefore the company requires funds in order to meet this goal. It is therefore the goal of the operation manager to look for various sources of funds that might assist the company meet its objective. The sources of these funds include utilization of equity as well as loans from banks and other private investors.
Recruiting new Staff
ABC Company has undergone various challenges on its leadership, management and on other aspects. The goal of the company is to recruit new staff to meet shortfall. The operation manager has the option of outsourcing from its databases, recalling previous employees or advertising for this new position through various mediums. The recruiting of new employees is essential in ensuring the company has a better workforce (Pett, 2015). On the other hand, the company needs to reshuffle its staff. Individuals on the management positions need to be reshuffled in order to maintain consistency in operation and equality.
Improved marketing Strategy
The other goal for the organization is to create a new marketing strategy. The operational manager needs to create a team that would undertake this new task. There is also a need for the manager to provide a budget for the marketing endeavour.
SMART Objectives
The ABC Company utilizes various SMART objectives in attaining its goals. The operational manager is responsible for the creation of these objectives.
Recruit High Quality Employees
One of the objectives of the company is to employ high quality employees. It is the goal of the company to employ employees with high level of skills and experience in order to completely utilize the recruitment market effectively. On the other hand the process of recruiting high quality employees will lead to high costs from clients.
Reducing Costs
One of the goals of ABC Company is to reduce costs within its operations. The organization through its strategic plans reduces its operation goals by ensuring that it introducing cost reduction measures. The organization goal in reduction n of costs starts from the period of recruiting. It wishes to utilize online platforms in marketing and communicating with prospective clients and recruits. This aspect will significantly reduce paperwork within its units. Teams within the organization will need to only concentrate on core issues. There is a need to eliminate other activities that may be avoided.
Networking and Socializing
Another goal for ABC Company is to ensure that it improves its socializing and networking abilities. The company focuses on utilizing social media platforms like Facebook and Twitter to meet clients and recruits. Socializing also acts as an Advertising campaign for the company. The goal of the company is creation of professional networks as well as social networks. There is also a team set to manage these accounts and make important changes if needed.
Focus on Productivity
ABC Company has placed emphasis on other operational matter which has led to loss of productivity. It is true that managers have turned their eyes from their core values. The operation manager's goal is to improve the focus of the firm towards productivity. Departments that have been facing high workloads need reduction of tasks. Managers that have lost focus on their business activities need training and professional advice. Important aspects on improving productivity are the provision of strict deadlines and prioritizing tasks according to its importance.
Implement New Technologies
ABC Company has faced various inefficiencies in its operation. Some of this challenges result from utilization of inefficient technology. These technologies may interfere with record keeping, communication and management of certain aspects. The goal of the company therefore is to acquire new technologies (Schniederjans & Cao, 2009). This might include utilization of new system of communication, management and record keeping. The goal of the company will include acquisition of new skills in managing new technologies as well as acquiring new tools.
Quality Management System
ABC Company utilizes quality management systems in ensuring quality of activities and processes. The quality management systems define the levels of quality of services of the firm. It also provides a basis for comparison with international and industry best practices. This quality also includes what employees need to achieve. In relation to quality the system depends on three important aspects. The aspects of consideration are High quality, High customer satisfaction and High accuracy (Schniederjans & Cao, 2009).
Work Plans
The work plans of ABC Company will take approximately 6 months. The first phases of the plan will be acquisition of new teams, Finance. The work plan will take an approximately 2 months on idea generation and formulation of the plan. The next 2 months will be a period where tasks will be shared within teams. The last 2 months will be assigned to implementation of the goals. Monitoring and control procedures will be undertaken in 2 months period but after implementation it will done semi-annually.
Monitoring systems
The monitoring system of ABC Company will consider four essential steps. In order to ensure a culture of monitoring to ensure high standards a team is set up that only carries analysis of information. The first step towards the management of monitoring systems is listening to customers' response on the organization. The team monitoring will only concentrate on questions related to the goals. The other important goal in the monitoring process is capturing of customers' feedback channels (Butera, 2016). The other method involves the utilization of internal systems. There is need for a continuous tracking of feedbacks and controlling monitoring processes. Implementation of monitoring activities improves on the skills of employees. It further provides information on skill gaps within the organization.
Health and Safety in the Workplace
Health and safety in the workplace is an important activity for organizations. Through legislations there are various aspects related to risk assessment in organizations. The government provides that and organization has a legal duty to provide an assessment on the risk issues of their employees. While undertaking the assessment it is essential to include employees and health and safety officers. Procedures are also essential in ensuring how individual might control risks. This means that organizations need to develop health and safety procedures within organizations (Butera, 2016). Some of the health safety regulations in the workplaces include ensuring there is adequate ventilation, lighting, working spaces.
Worry about your grades?
See how we can help you with our essay writing service.
LEARN MORE
Other regulations cover on drinking water, doors, and gates, washing facilities and eating places. Health and safety checks may be carried out through analysis of fire extinguishers. Such activities are carried out to ensure that the organization has an efficient first aid Kits. Teams within the organization need to carry these reviews on a regular basis. On the other hand, organization may undertake reviews by undertaking mock activities concerning safety. This may be done through initiating a situation n similar to an exact safety risk and analysing how individuals react.
At the ABC Company health and safety procedures may be carried out by formulating a team which will oversee safety procedures. The other method of maintaining safety will include purchasing of fire extinguishers. Procedures need to be followed to ensure effective ventilation as well as spacing within stores. Further, training on health and safety control procedures needs to be undertaken on regularly basis. Mock exercises on health and safety, needs to be a practice in ABC Company.
Reference list
Smith, H. & Fingar, P., 2003. Business process management: the third wave (Vol. 1). Tampa: Meghan-Kiffer Press.
Anttila, J, & Jussila, K 2013. 'An advanced insight into managing business processes in practice', Total Quality Management & Business Excellence, 24, 7/8, pp. 918-932.
Schniederjans, M, & Cao, Q 2009. 'Alignment of operations strategy, information strategic orientation, and performance: an empirical study', International Journal Of Production Research, 47, 10, pp. 2535-2563.
Pett, J 2015. 'Strategic Alignment', Internal Auditor, 72, 3, pp. 59-63, Business Source Complete, EBSCOhost, viewed 5 August 2016.
Butera, V 2016. 'Cal/OSHA Proposes Extensive Regulations to Address Workplace Violence in Health Care Settings–Will Federal OSHA Follow Suit?', Employee Relations Law Journal, 42, 2, pp. 47-49.
Cite this page
Choose cite format:
APA
MLA
Harvard
Vancouver
Chicago
ASA
IEEE
AMA