Essay on Career Development
Published: 2021/12/24
Number of words: 1340
1.0 Introduction
My main goal, both personal and professional, is to be a successful business person. I made this verdict amidst my weakness to adhere to employment strict timeline, which requires a person to conform to 9 a.m. to 5 a.m. job routine. This selection, therefore, obeys my subjects' choices. Information technology (IT), specifically, will give me an edge to understand advancements while MBA, a course I intend to join in graduate school, will empower me with skills to be able to understand the business world well. IT concentration will provide me with insight about Fintech, an area I would love to understand fully. So, this objective coincides with my SMART goals. For now, I need to be a diligent student and pass my core subjects, which are mathematics, business, and technology. My assessment revealed significant strength in these areas, and therefore, I believe I am treading on the correct path.
2.0 Domain of Study
Three domains are crucial to my career development: Technical writing ability, adaptability to new situations, and decision-making skills. Each of these domains relates to specific subjects that I have undertaken so far in BA. Technical writing skills can be attained from various courses, including but not limited to the English language, information technology, and creative writing. The adaptability to new situations is essential and it can be achieved from different subjects, such as English, psychology, and business is crucial in this domain. Lastly, decision-making is one of the essential ability that is required for every business person. It can be attained from subjects, such as mathematics, psychology, and English.
Need an essay assistance?
Our professional writers are here to help you.
Place an order
My academic planning relates well with strengths and weaknesses. Explicitly, I do well on subjects, such as mathematics, business, and technology conforms precisely to my objective of being a business person. Well, I also do alright on social science – a subject I would say is vital for handing clients. Mainly, adaptability to new situations requires that a person should have social skills, and so, social sciences become handy in that case. Technical writing capability is obtained from almost all subjects, and that explains why I do alright in subjects, such as business, technology, and physics. Also, decision-making skill is one fundamental feature in business studies, and so, it elucidates my prowess in this subject.
My main goal in the future is to be a business person. Besides, knowledge of technology will ensure that I am able to be aware of advancements in the business world. Particularly, Fintech will help me understand mobile phone transactions and even be able to predict associated perils. Currently, successful enterprises employ online sales – a procedure, which makes them maximize profits. Studying business and technology will help me understand this trend and even apply it when necessary. Mathematics, as one of my subjects of strength, is a prerequisite in handling calculations. Thus, it is an important course that will help me achieve my aim.
General Studies Concentration.
My area of concentration is information technology (IT). This area will, therefore, help my business be more productive. IT commonly assists firms by permitting them to operate efficiently in order to maximize profit (Markovic, & Salamzadeh, 2018). Drawing on from this view, IT aids in protecting important documents, enhancing faster communication, and keeping electronic data (Nguyen, Newby, & Macaulay, 2015). Particularly, understanding Fintech will give me an edge in handling all online and phone-related transactions. As a result, I will be able to anticipate frauds and even mitigate them in time.
3.0 Coursework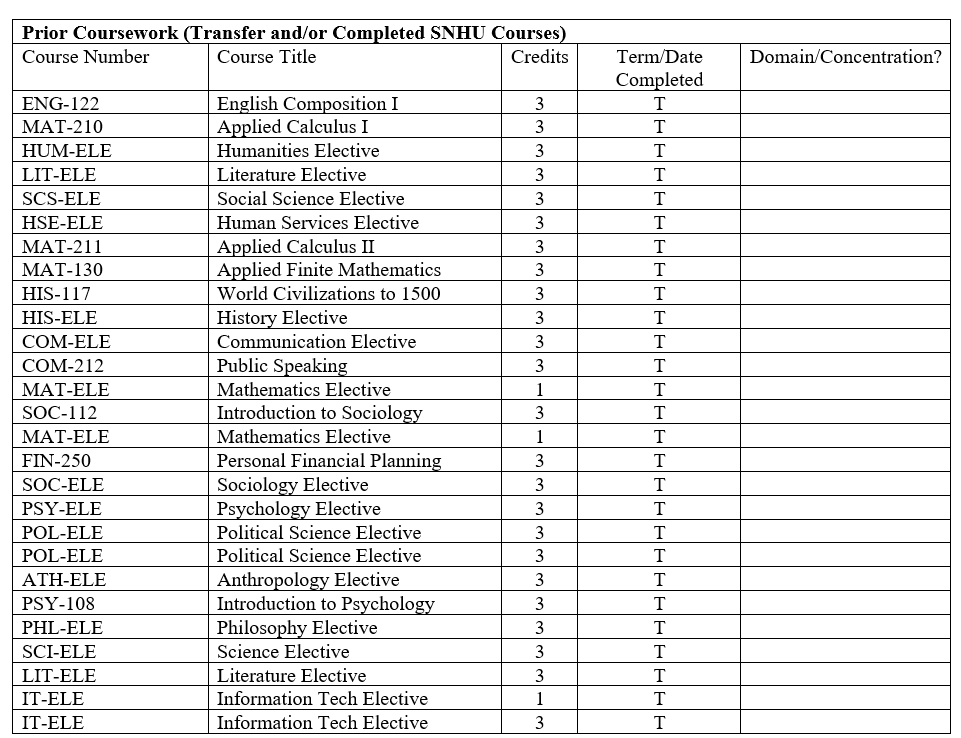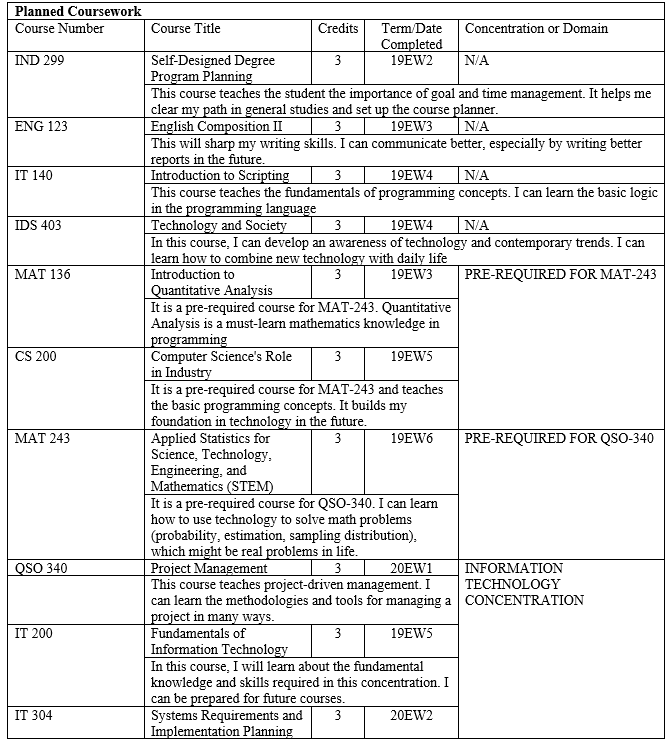 4.0 Academic Rationale
The Bachelor of Arts General Studies (BA.GS) is an essential course because it offers diverse skills. In relation to my goal, that is to be a successful business person; this course has helped me gain insights on various prerequisites on running a business. A successful entrepreneur must be able to understand the market and even make feasible decisions (Lee, s& Lee, 2015). For example, in the case of disruptive innovations in the realm of business, an entrepreneur should be able to design a solution so as to avoid failure (Mueller & Shepherd, 2016). This merit, therefore, can be achieved by understanding technologies, as well as having in-depth knowledge about running businesses. It is worth noting that the current world is ever-changing, and so, if someone wants to venture in the commerce world, then BA.GS becomes a crucial subject. The diversity it offers, therefore, makes a person become an all-round person with the ability to succeed in different spheres of business.
Diverse skills are essential in running a business. In order to succeed, an entrepreneur should be a critical thinker and an excellent communicator. Enhanced literacy and math skill is an added advantage. Moreover, BA.GS stimulate the mind of a person to be imaginative, and even reason creatively. Also, this course fosters knowledge of the broader social and cultural scenario. As such, it is explicit that BA.GS offers an essential background for my development as an entrepreneur. I intend to succeed in a business venture, and IT concentration will enhance this mission. Generally, I will be able to apply these diverse skills in order to foster my career progress, as well as personal growth. Notably, I plan to do an MBA once I finish a degree course. Therefore, I believe that BA.GS offers a precondition that is required for pursuing an MBA. This course, particularly, will expand my knowledge of business skills and even enable me to understand commerce in terms of the global context.
Worry about your grades?
See how we can help you with our essay writing service.
LEARN MORE
5.0 Conclusion
Overall, I have gained significant milestones concerning BA.GS course. The subjects that I have accomplished so far supports my main ambition of running a successful business. Besides, I have recognized that specific classes can help a person to foster his goal. Therefore, I have gained experience in learning how to bridge my objectives with learned content. As such, diversity in terms of skills offered by BA.GS has been instrumental, especially by enabling me to gain insight into the essentials of running a business. First, decision-making skill, as one of the domains for career development, is undeniably an important asset for surviving competition in a commercial world. Secondly, technical writing is another skill-set, which is equally crucial for operating a business. Lastly, adaptability to new situations mandates that a person must be dynamic regarding ever-changing conditions. So, this merit will provide me with an opportunity to learn and solve problems.
Moreover, I commonly consider my personality development while doing my course. During analysis, after completing the MBTI profile assessment, three test results accurately described me: Strong sense of duty, sensitive and warm, and good at connecting with others. Critically, these personalities fit the characteristics required for an entrepreneur. On the whole, the subjects that featured among the ones I do alright, such as mathematics, business, and technology form the complete package for my main objective in life. Entrepreneurship is the sure way to succeed in life, and I envisage it as one my favorite pathway. Currently, the world is ever-changing and educational diversity can serve an important role.
References
Lee, S. M., & Lee, B. (2015). Entrepreneur characteristics and the success of venture exit: an analysis of single-founder start-ups in the US. International Entrepreneurship and Management Journal, 11(4), 891-905.
Markovic, M. R., & Salamzadeh, A. (2018). The importance of communication in business management. Business Management, Entrepreneurship and Entrepreneurial TendencieS, 11.
Mueller, B. A., & Shepherd, D. A. (2016). Making the most of failure experiences: Exploring the relationship between business failure and the identification of business opportunities. Entrepreneurship Theory and Practice, 40(3), 457-487.
Nguyen, T. H., Newby, M., & Macaulay, M. J. (2015). Information technology adoption in small business: Confirmation of a proposed framework. Journal of Small Business Management, 53(1), 207-227.
Cite this page
Choose cite format:
APA
MLA
Harvard
Vancouver
Chicago
ASA
IEEE
AMA