6 Ways to Enjoy Freshers During COVID-19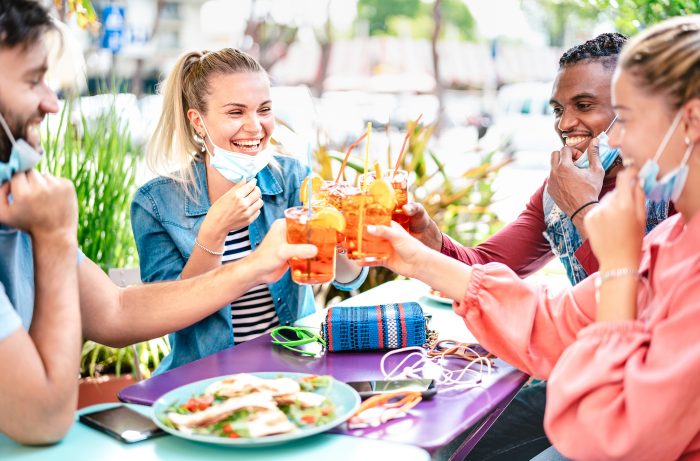 As a fresher this year, your experience of university is going to be very different. You might be disappointed that you won't get to do the usual fresher activities and that's understandable, but it doesn't mean you can't have any fun at all! There are many alternatives to make sure you still enjoy your freshers week and get to make plenty of friends before university officially starts. Check out these 6 things you can do this freshers week:
1. Party at home
Some of the people you're most likely to become friends with over freshers are your housemates! Of course, government guidelines are constantly changing and although you can't have more than 6 of you at the moment – who said you can't have a little boogie together in your flat? You could play some drinking games like Ring of Fire and Never Have I Ever to get to know each other a little better and have a good laugh or stick on some music, dim the lights and dance the night away! If you'd rather keep it casual, how about a movie night or karaoke? We're sure everyone will bond laughing at each other's singing abilities (or lack of!). It doesn't have to be boring just because you can't go out. The fun starts at home!
2. Go to a pub
Although clubs are closed at the moment, the pubs are still open! If you're dying to get out of the house this is your best bet. You can get some food (we're sure you'll soon be tired of cooking!) and get to know one another over some drinks. This is also a way to branch out from seeing people who aren't in your accommodation, as long as you're following the rules of course. Branch out and start socializing with others whilst you can!
3. Play Minigolf
If you're more of the active type – we've got options for you too! Mini golf has become increasingly popular and there are usually many places within city centres that you can go to. Junkyard Golf is an example of one place that is quite popular for students and is located in most major UK cities including Manchester, Liverpool, Leeds and London. They're open till 12/1 am depending on the day and serve all sorts of interesting cocktails if that's your sort of thing (the UK is known for it's drinking after all)! It's a party alternative and could provide some good laughs for you and your friends. A little competition never hurt anyone, did it?!
4. Go out for a meal
We know, these options are a lot tamer compared to the usual freshers events but we've got to work with what we've got here! You could go and grab some food after a lesson with a couple of classmates or even with your housemates for dinner. Everybody loves going out for food and especially if you're in a big city, there are usually plenty of options on where to eat. Branch out and try somewhere new! It'll be a great opportunity to catch up with people while discovering new places around where you're living. It's just another way to make friends and enjoy yourself at the same time.
5. Group call with other flats/houses
We're sure you've all done your fair share of zoom calls over lockdown and at a time when meeting in big groups isn't allowed, it could be good to bring it back. It might not seem like the most exciting way of bonding, but it's worth doing so you can get to know the people around you. Usually you'll meet most of the people in your building and neighbouring buildings from parties, so you could suggest this instead. You could do pub quizzes, play games like Psych or draw with friends or even make up some games of your own! Often there are group chats for each course at university so everybody can talk to each other, so you could even suggest the idea there. We're sure a lot of people would be on board as everyone wants to reach out and you can always plan to meet up properly once things are back to normal.
6. Attend a freshers event
Most freshers events are going to be very different this year but a majority of them are still being held. Some events are virtual and others are going ahead in person with social distancing restrictions! One event that happens every year at most universities is the society fair. It gives you the chance to join a club or society to connect and meet people via your common interests. Virtually many universities are holding their own quizzes for freshers and classes for activities like yoga or even book clubs. Check out your university website to find out exactly what's open to you and see if anything piques your interest!
These are just some of the things that you could find yourself doing this freshers. Activities can vary depending on where you are and the university you're going to but we guarantee there is something out there to keep your freshers enjoyable! Remember, you can always make your own fun! Hopefully, this has given you some hope about your university experience this year and we wish you the best of luck adapting. Comment below what you're doing this freshers!