Essay on Project Management Essentials
Published: 2021/12/06
Number of words: 4720
Executive summary
The Hull city council had been funding major IT based projects so that the city became one of the rapidly developing smart cities across the world. Till date major tasks had been accomplished for realizing the project. As of now, a new project is to be funded so that a Smart OS is being developed for the city. This operating system shall integrate major aspects of Municipal Corporation functioning and make life easy for the citizens. The study below has elated a project management report and has discussed on how the management process shall be executed. Aspects of leadership, stakeholder management, Risks, Team efforts management and many more have been explained in detail
Introduction
Development in the field of technology can be considered as a boon for Human beings. With passage of time, technology has been observed to replace manual processes and make life easier comparatively. Development in the field of IOT has enabled the development of smart cities respectively. However, the process of implementing technological aspects to develop a smart city is complex. This is to be done systematically so project management methodologies are expected to be implemented. Project management can be defined as the task of initiating, planning and executing commands so that a project idea can be developed into a reality respectively. Project management teams are expected to possess basic skills that shall help them in delegating the task effectively. The current project that has been considered is a smart city operating system (OS) development project. The Hull city council have been observed to be the major sponsor for the project. The tender for executing the OS development project had been offered to Conexant and Cisco. The project shall be beneficial to the stakeholders, specifically the end users of the project. It shall be integrating all major aspects of the city management system. Based on the details that have been provided in the case study, it can be commented that the project management team had skipped the process of pilot study and had decided to proceed directly with the implementation process. The report would entail details regarding the project management process and specific considerations associated with the project. Aspects of leadership, stakeholder management, risk management, financial management, conflicts management and many more shall be discussed in detail.
Need an essay assistance?
Our professional writers are here to help you.
Place an order
Task 1 – The Project Manager
Within the project management landscape, a project manager refers to a responsible professional who has the responsibility to have better project planning, procurement and implementation. The project manager is the first point of contact for project issues and discrepancies (Andersen, 2016). In simple words, a project manager is liable for managing a project, in different aspects. Thus, for project managers, a few particular sets of skills and competencies are mandatory which can help them handle project development better. As per the given case study, it is highlighted that the Hull Smart City OS project does fall under the innovative infrastructure-based IT project in which both the IT and construction operations are involved.
Required roles and skills for the project manager in the Hull Smart City OS project
Leadership and management during the project initiation and development does form an essential functional environment that further helps a project have better control and quality direction. In a wider sense, the main role of a project manager is to plan, organise, direct and control a project proceeding (Meng and Boyd, 2017). The main aim of the individual is to ensure that a project is completed efficiently within the given timeline and set budget. After analysing the case study, several tasks can be found for the project manager, among which engaging community people and managing stakeholders is the integral part of the project. The assistant director of digital and ICT of Hull City Council, Mike Kenworthy, viewed that managing stakeholders is one of the most challenging roles for the project management team during this project. So, in this circumstance, the primary project manager's role is to identify the particular project requirements such as resources, and planning. The individual must be responsible to assess the stakeholders for this project and their valuable roles. Another role is to ensure that each project team member is aware of the goals and achievement criteria for this project.
To handle project management roles and duties, a project manager needs to have technical and interpersonal skills. In the concerned smart city project, there is a certain complexity raised as the project is following the ICT implementation. To deal with these certain complex situations, a few skills would be required from the project manager's perspective.
Ability to have technical planning and forecasting is a necessary skill for the project manager because the process of forecasting does mean making prominent budgets and setting an accurate timeline (Hayes and Prodanovic, 2015). For this, the project manager needs to have proper analytical skills as well, which would enable them to deconstruct project information and tasks into smaller categories for drawing better outcomes
Time and cost management skills are other essential skills for the project manager, especially when a project requires more technicality and innovation. Efficient cost and time management skills within the smart city project enables the project management to bring efficiency in the viability of such a large and complex IT and construction project (Ahmed and Anantatmula, 2017).
Risk identification and mitigation skill is another essential one for the project manager of the concerned smart city OS project in Hull City. With this, the manager can be able to assess the possible risks or challenges faced by the management team within the project. These risks could be internal or external such as community or environment issues or resource constraints. Anticipating major challenges and finding the best possible solutions help a project get valuable outcomes, eventually.
Possible actions required to develop these skills within the project
In the Smart City OS project at Hull City, a few general actions must be conducted by the project manager to develop and use the identified project management skills and competencies. Thus, a project management process does rely on a professional team that is responsible for effective project initiation, planning, implementation and evaluation. In order to generate effective time and cost management skills, it is necessary for the project manager to prioritize and arrange tasks and complete those tasks systematically (Yaseen et al. 2019). Because of the complexity nature of the smart city OS project, it is believed that the Agile project methodology could be most suitable for the management team. Ability to manage stakeholders can only be achieved when a project manager builds prominent stakeholder communication and interaction. The project manager, in this technical project, needs to bring effective two-way communications among internal stakeholders like project workers and external stakeholders such as the project client (Hull City Council), community people, materials suppliers and so on.
Task 2 – Problem Solving & Decision Making
In a general understanding, a project refers to a collaborative and communicative effort, which must be developed and managed by a project management team. Individuals as well as organisations who are involved within a project and whose interests may be affected as an outcome of project development are called project stakeholders (Ponomarenko and Marinina, 2017). Thus, the smart city OS project is predicted to be successful if the management team would show their ability in identifying and managing internal and external stakeholders. Within a project environment, stakeholders are usually classified into two different types such as Direct stakeholders and Indirect stakeholders. Direct stakeholders are those who are actively engaged within a project and Indirect stakeholders are those who take the advantages or disadvantages during and after a project accomplishment (Bizon-Górecka and Górecki, 2017). As the concerned smart city project is equipped with more information technology and innovative construction, the number of stakeholders are going to be higher than any other usual projects. The identified stakeholders for the project are mentioned below by considering their areas of interest, communication ways and frequency.
Stakeholder identification for the smart city OS project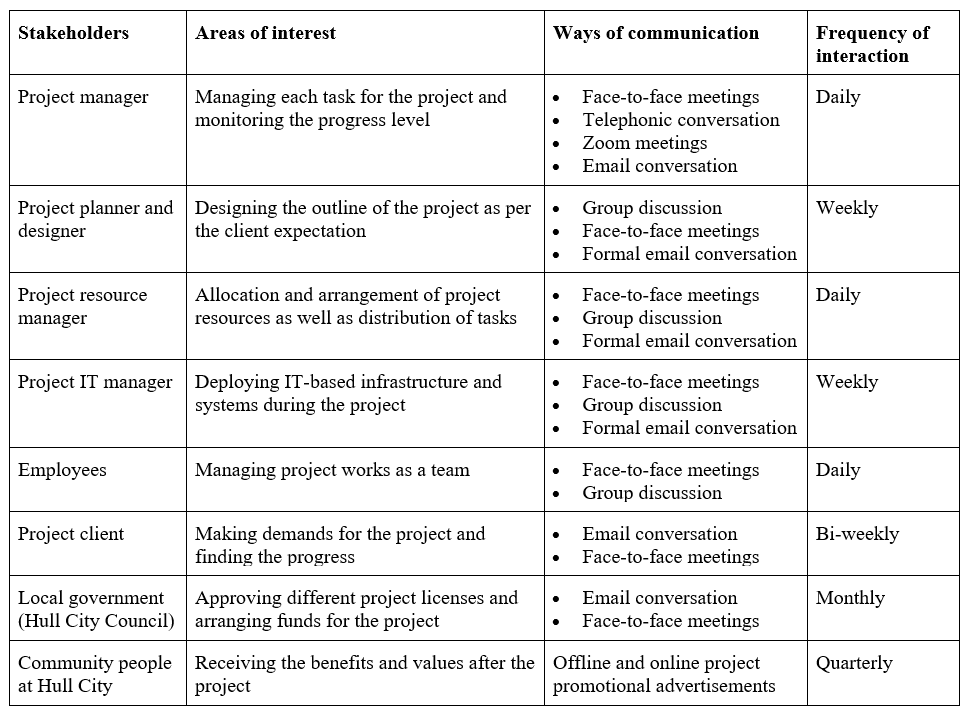 Table 1: Stakeholder identification of Hull City Smart City OS project
Stakeholder Influence Map
A Stakeholder Influence Map is recognised as a simple tool to capture potential project stakeholders of a particular system and interactions or influences, which exist between them (Reed and Curzon, 2015). This is a four-quadrant tool which visually presents different parts of stakeholder interests or influences, within a project.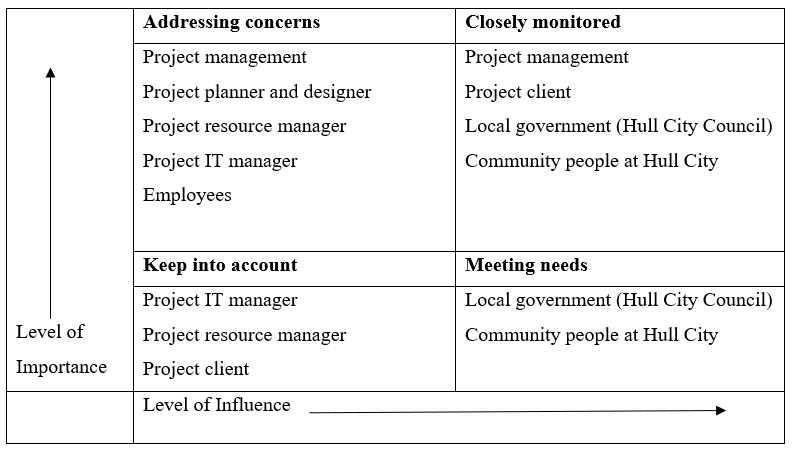 Table 2: Stakeholder Influence Map at Hull City Smart City project
Task 3 – The Project Triangle
Importance of Project Triangle parameters within the smart city OS project
A project management triangle is a conceptual framework or tool that is used by project development managers to understand and analyse the difficulties, which may arise during the implementation of project plans and actions. Within the concerned smart city OS project, the project manager needs to consider three main parameters such as Time, Scope and Cost, which can also be considered as project constraints (Blaskovics, 2016). The importance of project scope is that it is explained as an area of improvement that must be focused for optimizing the future project prospects. In this project, accurate project scope can eventually deliver successful project completion and client satisfaction. Time is another project triangle parameter which looks after the consideration of ending a project within the given timeline. Cost is the last parameter for the project success which focuses on managing financial resources, making budget plans and completing a project while maintaining the budget.
Figure 1: Project Triangle Parameters
(Source: Influenced by Świtała, 2013)
Scope: Within the project of Hull Smart City OS, the importance of scope is to ensure that proper data-sharing infrastructure and ideal city networking systems would be generated. This parameter would bring quality development of an operating system in order to set effective security, and mobility within the city.
Time: The importance of time within the concerned project is that the project manager would find various essential processes to achieve each task by maintaining a proper timeline. Thus, it is also necessary to focus on the pack of the contribution from different stakeholders during the project execution.
Cost: From the given case study, it is observed that in the Hull Smart City OS project, around £85 million has been invested by a local telecommunication company, KCOM (Apm.org.uk. 2021). In this investment, the aim was on developing LoRaWAN and a full-fibre network. Thus, the importance of this parameter is to deliver quality finance management and cost estimation procedures.
Impact of project changes
Changes within a project are based on transforming or changing the ways to achieve a certain project outcome such as changes in hiring procedures, implementing new accounting or finance solutions and so on. The project management needs to figure out primary and secondary stakeholders who are the main drivers of these changes. In the concerned smart city OS project, a possible change can be based on the hiring process which may be transformed from self-hiring to outsourcing. These changes may lower the hiring costs for the project operation but may create more conflicts in finding and utilising talents.
Task 4 – Managing Finances
Managing finance for a project is analysed to be a very important stuff in order to have proper objectivity achievement. In this project development is planned for you case first smart City by Hull. Planning of financial essentials about a smart city is analysed to be a very complex method as proper knowledge of technology and other essential items is necessary. In reference to the works of Filimonau and Naumova (2020), it can be analysed that proposed searches are made by the project managers in order to have estimations related to the project. Based on the case study that is provided for the smart City proper discipline is required to be maintained or integrated. As per the evaluation, Hull is derived to be an effective solution provider as it was awarded with 55000 pounds for the service of smart City solution. Reduction of traffic problems was effectively made by Hull based on which it can be analysed that proper initiative will be taken for building the smart city as well in the United Kingdom. As per the valuation building a smart city is analysed to be effective in terms of enhancing opportunities of employment. Based on different researches smart City infrastructure is effective as it helps in modernizing and better connectivity is also built. According to the planning approach that is initiated, approximately use of 85 million pounds is required based on the cost estimation process for developing a smart City. As per the research process the resources that are essential for the building purpose includes
High-speed fibre networks and LoRaWAN networks
Full-fibre network, and Connexin'sLoRaWAN
Installation of sensors across the city
VaisalaIceCast program
Bartec Auto ID system for managing waste
Datek street lighting system
Defra's air-quality database
Environment Agency's flood monitoring platform
Implementation of the platform and bringing all of the systems onto the OS
Hydro-Logic flooding alert sensors and the AstuniShare GIS web mapping portal
In the resources high speed network fibres are used which is the only reason for increase in the budgetary factor. In the present market situation competitiveness can be obtained using the latest technologies. Cost Management determination for smart City building is analysed to be very important in terms of reducing complexity and having smooth operational procedure. However it can be argued from the study of Jiang et al. (2021), use of cost estimation process is necessary in a project in terms of fulfilling necessity so uses of proper resources in appropriate patterns. In consideration to the smart City building process the amount that is sanctioned for our construction process is required to be allocated effectively. In terms of minimising wastage in the operational process can be implemented. Based on the identification it is addressed that along with the enhancement of smart City population is required to be trained appropriately in terms of using the smart City services. Approximate implementation of 1.5 million is made for different organisations and industries to provide training. Considering these factors is analysed to be very important to fulfil project objectives without any complexities.
Task 5 – Risk Management within the Project
Risk management approach is analysed to be a very important factor within a project in terms of identifying different sorts that may be faced while conducting the project. Risk with another project refers to any sort of MS happenings for uncertainty that can impact over the objectivity achievement. According to the study of Raum (2018), it can be analysed that risk management technique within a project is very important in order to minimise different issues before its impacts harshly. Effective monitoring process is necessary to be implemented in terms of defining uncertainty or risk. Project risks are of different types that are very commonly identified including schedule, cost and performance. Cost risk is analysed to be a type where misuse of budgeted Mani is analysed. On the other hand costliest can be both impacted by internal and external factors. Schedule related issues that can be highlighted within an organisation due to inefficiency in the scheduling process. Impact of schedule risk is identified over the project completion process. Performance risk always depends on what is performed by project managers and employees working under the specific individual. However it can be argued that once a project manager identifies the risk pattern mitigation strategy is necessary to be implemented in terms of having less impact. Risk that are faced in the process of developing smart City OS project includes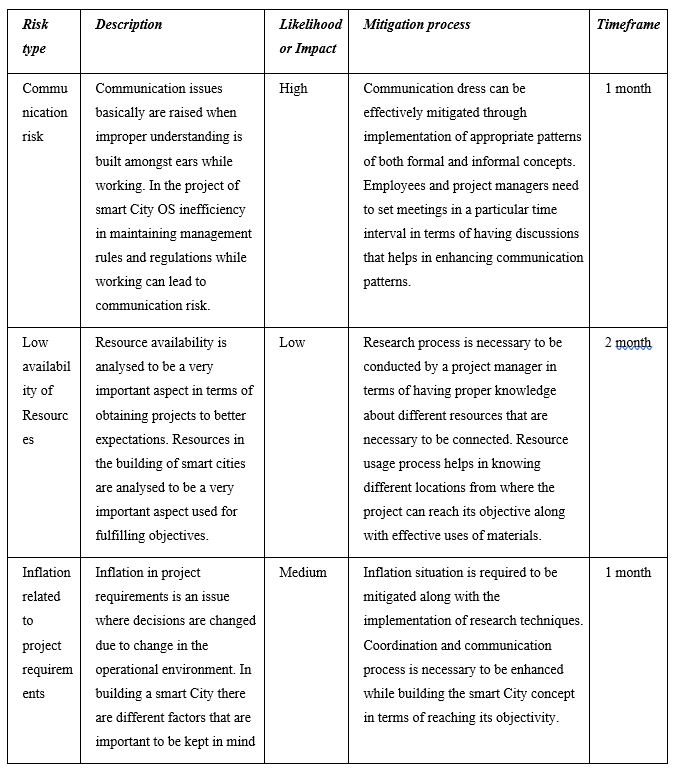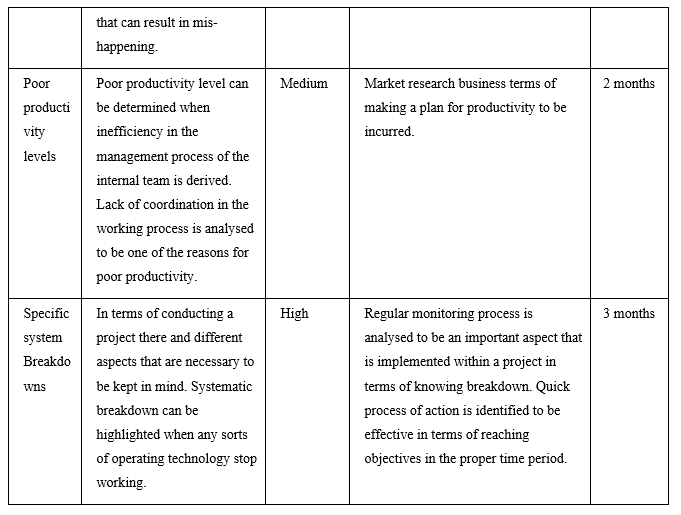 Task 6 – Conflicts and Negotiation
Conflict and negotiation is identified to be the opposite factor in a project. In a project proper management of conflict is required in terms of reaching objectives appropriately. The Negotiation process is analysed to be an important factor which is required by a project manager when a conflict is raised in terms of managing the situation. In terms of enhancing smart City different action that is necessary to be incremented in the arms of mitigating conflicts includes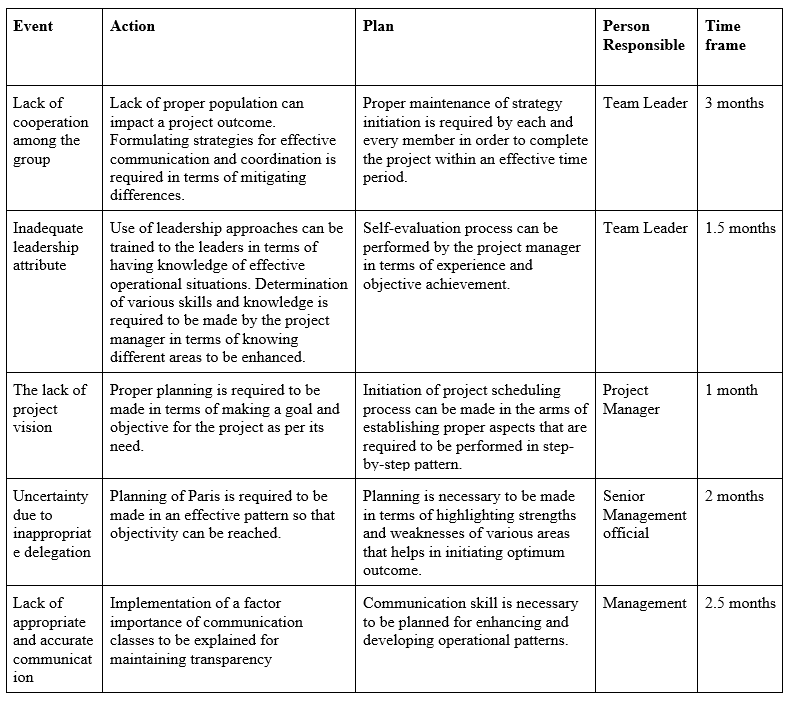 Task 7 – Teamwork
Ways the project manager can develop a highly effective team for the OS development project
An IT based project management team can be considered as a complex task respectively. Hence, it would be a wise decision to have the development process executed through team efforts. In accordance with the views of CopolaAzenhaet al. (2021), it can be commented that team efforts can be considered as the basis of success in a project management team as it helps in resolving complex problems efficiently. Apart from efficiency in work, team efforts within the project management process helps in implementing creativity as well as innovation in the project management process. Ideally, it would be the role of the project manager to develop effective measures so that team efforts become beneficial for the project development process. The project manager at the Smart city OS development project shall have to work on the following aspects to develop an effective project team.
Projects must have goals and it would be the responsibility of the project manager to ensure that the goals are clear amidst the project development team.
The project manager shall have to ensure that each team mate is aware of their own roles as well as responsibilities. Apart from this, Nicholas and Steyn (2020) had commented that team mates shall have to possess the autonomy of decision making regarding their own areas of work respectively.
Communication channels within the project management team shall have to be clear amidst the project management team. In fact the team leaders of the project management team shall have to be approachable at all times
Maintaining a positive working atmosphere with good working conditions and even workload distribution shall have to be maintained within a project development process. It would be the responsibility of the project leader to ensure the same as well.
Ways aspects of diversity can impact the projects performance
Companies that mainly deal with IT based projects have their working bases in several nations. Hence it is imperative that a project management team shall have a diverse range of professionals working together. Styhre (2020) had commented that diversity within a project management team has its own positives as it has the ability to enhance the performance of a project management team respectively. Based on these discussions, it would be suggestive to the project management team to include diversity within the project management team. They should not be applying biases on the basis of race, gender and ethnicity while selecting a team mate. It must be the ability of the team mates that must matter during the member selection for the Smart city OS development project. Sabini and Alderman (2021) commented that diverse project teams can easily outperform the non- diverse project teams. Specifically, diversity within teams can enhance community support, decrease the rate of conflicts and support innovation. In simple terms, it can be conveyed that team efforts within the project management processes shall be more peaceful respectively. Team members shall have an increased sense of empathy and understanding for their teammates and this shall allow them to create a comfortable workplace for their coworker. Collectively, based on the discussions, it can be commented that the project manager of the OS development project shall have to remember that aspects of gender, age and ethnicity biases must not entertained within team efforts
Actions that can be taken by the OS development project manager to develop a diverse team
Considering the fact, that diversity and inclusion within project management process is extremely beneficial, the following ways can be implemented by a project manager to build a diverse project team;
The primary task of the project management processes shall be to establish a diversity inclusion policy
The team member shall have to establish transparent and fair equitable hiring practices. Recruitment and selection process itself shall have to be inclusive
Payment Equity can be considered as a major practice that shall have to be implemented by the project manager. This shall ensure that each team member is able to draw equal emoluments with respect to the work they do (Akkermanset al. 2020)
The project manager shall have to be approachable as well as participative with all team mates irrespective of the working practices
The demands of the team mates shall have to be heard by the project management leaders. Based on this, measures shall have to be taken to fulfill them. The task of the project manager would be to provide motivation to the project management team by keeping them satisfied
Based on the views of Layton et al. (2020), team mates can be considered as a valuable stakeholder for the project management company. It would be the efforts of the employees that shall be making the project management process completely successful. Project leaders shall have to provide attention to each individual mate to make them feel valued. This, in turn, shall motivate them to participate in project management processes more effectively.
Concluding Remarks
The current project is concerned with development of operating systems within a smart city. This project is expected to be beneficial to the citizens of Hull city. The report regarding the project management process had been initiated with the discussions of leadership. Based on the discussions, participative leadership is expected to be implemented within the development process. The list of both direct as well as indirect stakeholders have been mentioned. Along with that, an action plan regarding communication has been discussed well within the study. The requirements of the project management process have been listed along with the exact financial resources to be required for the project. Concluding the overall discussions regarding the project management process, it can be highlighted that the project manager shall have a crucial role to play within the project. Starting from team management to resource allocation, each task shall have to be effectively accomplished as a project manager. They shall have to ensure that communication channels within the project are clear and they are available to the team mates. Diversity management is also one more task highlighted in the study.
Worry about your grades?
See how we can help you with our essay writing service.
LEARN MORE
Assessment Self-Evaluation
Task 1: For this task, I would be awarding Merit as well as distinctions, for I have provided excellent discussions regarding aspects of leadership within the project management process. Apart from this, I have also provided a description regarding the type of leadership required for this project.
Task 2: based on analysis of my contributions for this task, I shall be awarding merit as I have discussed the key stakeholders. Good discussions regarding their influence in the project management processes have also been mentioned. Apart from this, plans to communicate and engage with them had also been presented.
Task 3: I would like to provide merit in this segment of the assignment as I have presented a good discussion regarding the project management triangle along with its importance within the project management process. The discussions have also been supported with academic references
Task 4: I think, distinctions can be awarded to this sections, as the list of requirements within a project shall be provided a accurate list of requirements to make the project management process successful respectively
Task 5: Merit can be awarded to this task as all possible risks and the mitigation strategies in form of a risk register have been mentioned in detail
Task 6: Merit can be awarded to this task as all possible conflicts and mitigation processes have been provided
Task 7: I think pass marks can be provided to this, as intricate details regarding the project team had not been mentioned.

References
Ahmed, R. and Anantatmula, V.S., (2017). Empirical study of project managers leadership competence and project performance. Engineering Management Journal, 29(3), pp.189-205.
Akkermans, J., Keegan, A., Huemann, M. and Ringhofer, C., (2020). Crafting project managers' careers: Integrating the fields of careers and project management. Project management journal, 51(2), pp.135-153.
Andersen, E.S., (2016). Do project managers have different perspectives on project management?. International Journal of Project Management, 34(1), pp.58-65.
Apm.org.uk. (2021). Smart City OS: Hull's journey to becoming a programmable city. Available at: <https://www.apm.org.uk/resources/find-a-resource/case-studies/case-study-smart-city-os-hull-s-journey-to-becoming-a-programmable-city/> [Accessed: 2 October 2021].
Bizon-Górecka, J. and Górecki, J., (2017). Influence of selected stakeholders of construction investment projects on the course of project. In IOP Conference Series: Materials Science and Engineering (Vol. 245, No. 7, p. 072018). IOP Publishing.
Blaskovics, B., (2016). The impact of project manager on project success—The case of ICT sector. Society and Economy, 38(2), pp.261-281.
CopolaAzenha, F., Aparecida Reis, D. and Leme Fleury, A., (2021). The role and characteristics of hybrid approaches to project management in the development of technology-based products and services. Project Management Journal, 52(1), pp.90-110.
Filimonau, V. and Naumova, E., (2020). The blockchain technology and the scope of its application in hospitality operations. International Journal of Hospitality Management, 87, p.102383.
Hayes, B.P. and Prodanovic, M., (2015). State forecasting and operational planning for distribution network energy management systems. IEEE Transactions on Smart Grid, 7(2), pp.1002-1011.
Jiang, H., Jiang, P., Wang, D. and Wu, J., (2021). Can smart city construction facilitate green total factor productivity? A quasi-natural experiment based on China's pilot smart city. Sustainable Cities and Society, 69, p.102809.
Layton, M.C., Ostermiller, S.J. and Kynaston, D.J., (2020). Agile project management for dummies. John Wiley & Sons.
Meng, X. and Boyd, P., (2017). The role of the project manager in relationship management. International Journal of Project Management, 35(5), pp.717-728.
Nicholas, J.M. and Steyn, H., (2020). Project management for engineering, business and technology. Routledge.
Ponomarenko, T.V. and Marinina, O.A., (2017). Corporate responsibility of mining companies: Mechanisms of interaction with stakeholders in projects implementation. Journal of Applied Economic Sciences, 12(6).
Raum, S., (2018). A framework for integrating systematic stakeholder analysis in ecosystem services research: Stakeholder mapping for forest ecosystem services in the UK. Ecosystem services, 29, pp.170-184.
Reed, M.S. and Curzon, R., (2015). Stakeholder mapping for the governance of biosecurity: a literature review. Journal of Integrative Environmental Sciences, 12(1), pp.15-38.
Sabini, L. and Alderman, N., (2021). The Paradoxical Profession: Project Management and the Contradictory Nature of Sustainable Project Objectives. Project Management Journal, p.87569728211007660.
Styhre, A., (2020). Thinly and thickly capitalized projects: Theorizing the role of the finance markets and capital supply in project management studies. Project Management Journal, 51(4), pp.378-388.
Świtała, K., (2013). A project approach for implementation of GIS-The main principles of PRINCE2 and SCRUM methods. GIS and its implementations, pp.173-178.
Yaseen, M., Ibrahim, N. and Mustapha, A., (2019). Requirements prioritization and using iteration model for successful implementation of requirements. Int. J. Adv. Comput. Sci. Appl, 10(1), pp.121-127.
Cite this page
Choose cite format:
APA
MLA
Harvard
Vancouver
Chicago
ASA
IEEE
AMA